The Wiztastics Max is a Max that first appeared in A Quest for the Lost Mixamajig.
Physical Appearance
Overall, this Max resembles Mesmo the most.
He has Mesmo's eyes and hats. He also has Wizwuz-like legs with Magnifo's hands as feet, and Wizwuz's tail with the Wiztastics smoke on him. He has a large jaw with all of the Wiztastics' teeth on him. He also has Mesmo's wings that he uses to fly.
Abilities
His tail is magical and allows him to create portals.

Also, as seen in Mixels Rush, he can shoot lasers from his tail.
Set Information
The Wiztastics Max can be built using parts combined from Mixels sets 41524 Mesmo, 41525 Magnifo, and 41526 Wizwuz. Extra parts are leftover after construction. Instructions are available on the LEGO website downloads page.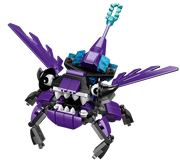 Trivia
He is the first Max to use supernatural powers.
His eyelid hats somewhat resemble horns.
He is the second Max to use minifigure head eyes, first being the 2014 Frosticons Max and third being the Orbitons Max.
In LEGO form, his eyes and hats are sideways, but they are upright in his animation model.
In his LEGO form, the upper jaw is built upside down instead of usually upright.
He is one of five Maxes to include wings, the others being the Orbitons Max, the Glowkies Max, the Lixers Max and the 2015 Glorp Corp Max.

Although this may be true, the 2014 Frosticons Max can fly as well while using his frost breath.

He is the only Max in Series 3 to have wings.
He is the second Max who has four legs, first being the Flexers Max, and third being the Lixers Max.
He's the only Series 3 Max without sharp toes.
Gallery
Main article: Wiztastics Max/Gallery
External links