Wild Cookeroni Chase in Downtown Mixopolis[1] is the sixteenth episode of the Mixels stop motions. It was released on March 15, 2016 on YouTube.
Synopsis
A cookeroni on the run resulted in a dramatic high-speed chase, which put all of Mixopolis into a frenzy yesterday afternoon. The incident happened when Paladum the flying horse collided with a Nixel, and dropped the cookeroni on Kuffs' police helmet. Reportedly nobody was injured during the chase.[1]
Summary
The MCPD and the Medivals are minding their own business in the Castle when Mixadel catapults a Nixel at Paladum, who is holding a Cookironi. The Mixels briefly chase down the Cookironi until it ends up inside the accidental Mix of Busto and Paladum, which flies away.
Characters
Major Characters
Mixes
Trivia
This is the first stopmotion to use cardboard cutout backgrounds instead of brick built ones.
Videos
Gallery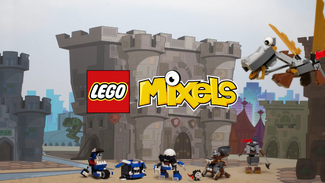 The image gallery for Wild Cookeroni Chase in Downtown Mixopolis! may be viewed here.
Sources and References
Community content is available under
CC-BY-SA
unless otherwise noted.