Vaudeville Fun is the seventeenth episode in the first season of Mixels. It first aired on June 12, 2014.
Synopsis
YouTube
A Frosticon and Balk mix and perform a series of vignettes, hoping to pass the big audition! [sic][1]
Zap2it
Colorful creatures combine with each other to make new combinations.[2]
Episode Summary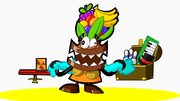 Kraw and Gobba Mix and perform a series of vignettes, hoping to pass a big audition. In the end they receive three "no's" from the judges, saddening Gobba and Kraw.
Transcript
For a full transcript of "Vaudeville Fun", click here.
Songs
Characters
Major Characters
Minor Characters
Mentioned
Mixes
Trivia
This is the short that contains the most Mixes, at 9.

The list of Mixes are as follows, in order of how they appear: mime, juggling, street performer, dancing (a repeat of the mime Mix), swinging, Hamlet, Hawaiian dancing, and stand-up comedy.

As the two Mixels go through their Mixes, the Fang Gang/Flexer cubits disappear from the table, implying that they used them and proving that there can only be one mix per cubit.
This episode implies the concept of family relationships (in this case, siblings and in-laws).
This episode also further implies that Mixels are somewhat organic creatures, as one of the Mixes holds a skull in the episode.
This episode aired during Cartoon Network's Ninjago Day marathon on November 22, 2014.
Broadcast
This episode aired on June 12, 2014 directly following the Teen Titans Go! episode, "Mr. Butt" and received a total of 1.763 million viewers.
Continuity
Errors
Allusions
​Memorable Quotes
"To mix or not to mix?"
— Kraw & Gobba Mix 3
"Boon chika-boon chika-boon chika-boon chika-boon chika-boon chika-boon!"
— Gobba & Kraw Mix 3
"That's no Nixel, that's my brother-in-law!"
— Kraw & Gobba Mix 4
Video
Gallery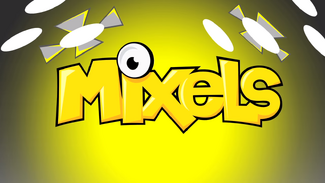 The image gallery for Vaudeville Fun may be viewed here.
Sources and References
Mixels Series 2 (June 2014)
LEGO sets
Frosticons
41509 Slumbo

(Nixel) / 41510 Lunk

/ 41511 Flurr


Frosticons Max


Fang Gang
41512 Chomly

(Nixel) / 41513 Gobba

/ 41514 Jawg


Fang Gang Max


Flexers
41515 Kraw

/ 41516 Tentro

/ 41517 Balk
(Nixel)
Flexers Max

Wrong Colors / Nixel "Mix Over" / Bar B Cubes / Snow Half Pipe / Hamlogna Conveyor Belt Madness / Vaudeville Fun / Fang Gang Log Toss / High Five / Elevator

Stopmotions


Jawg & Lunk Murp / Kraw & Flurr Mix! / Gobba & Tentro Mix!
Community content is available under
CC-BY-SA
unless otherwise noted.