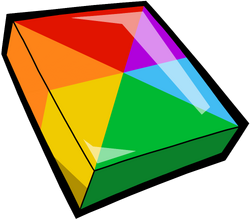 Welcome to The Monthly Mix, your guide to everything Mixels! Out every month.

Issue #7 - December 24, 2014
Introduction
Winter is here, Christmas Eve is today, Series 4 is out in a month... what could possibly be better? The wiki has had a great year; and in a week, it will be time to ring in an even better one!

First off, I'd like to thank everyone who made this first year special for the wiki: loyal bureaucrats ZootyCutie, FlurrFood24, and the recently departed MixedSerpent. I would also like to thank the rest of the staff: admins, chat moderators, and rollbacks. All of you make this site the best place for Mixels fans to be. Of course, all of our regular users are pretty awesome, too!

Furthermore, this is our first issue in two months, so let's get to it!
Wiki Updates
I think the biggest news is that our YouTube channel has received over 1,000 subscribers! I addressed this in a blog post a while ago, but this is still a monumental occasion. We've also hosted Maxcember over the course of the month. Anyway, keep adding information about 2015 Mixels content! Being prepared in advance is probably the best thing. We also need tons more images, so if you have any episode screenshots or the like, feel free to upload. Leaked images are allowed. Also, please keep the wiki clean by not ruining articles and undoing any vandalism you see. Thank you for your attention.
Set Reviews: None?
And we wait for Series 4 before we can do any new reviews. Quite a shame.
Cartoon Corner
In this section, I talk about the Mixels shorts that air on Cartoon Network. There are now twenty-one episodes in the series broadcasted (twenty shorts, plus the Mixed Up Special with the two "minisodes"). I don't expect any new episodes until mid-January or February. Details of whether we'll still see shorts or if the full series is coming then is subject to debate. Whatever happens, we will be ready... right? RIGHT?
Next Issue
Unfortunately, we are done for now. Continue to make the wiki a better place! Also, if you would like to write a guest article, send one to me at greenninjaatcp@gmail.com. Feel free to comment and let me know what you think, and what I need to to improve on, as I love to hear from you. I know it was sort of boring, but to be honest, not much has been happening. Next issue, we have a probable review of a Series 4 tribe, and more Mixel goodness than the whole population of Nixels! Don't miss it.




The Administration
Community content is available under
CC-BY-SA
unless otherwise noted.