INTRODUCTION
Mixels was one of my favorite cartoons but i was interested more in games because I'm a gamer but back then I never had a chance to try the games because…….didn't have a Smartphone but after I got my tablet in 2017 I was able to play CAM……it was kind of cool but boring..Didn't have MR because it was not available in my country….till in 2018 (and after MR was deleted) I was able to find the APK and OBB files……I finished the game twice and a half….it's time for a review
OVERVIEW
Mixels rush is a mobile runner game that is not endless like those TRASH GAMES THAT ARE POPULAR SOMEHOW that is 2D….the goal is to get to the end of the level without being defeated by the nixel storm. Use different mixels to their platform to walk fast. Mix if there is platforms that are not connected well. Max if there is a lot of obstacles or the end is far (oR If yOu WanT tO waSt your maxes for no reason) Seems cool right???well…………….as a concept…..development???....well…..==
NIGATIVES
-all mixels (excluding berp and kramm) are static artworks…you have artists…why don't you use them??...why static…a 2D mixels art style game with only static artwork….seriously??why not other poses???
-platform works by tribes,not characters…..there is even no stats for a mixel like how fast will he walk in his platform/not his platform/rock platform nothing…..all same…..and to prove that….the unused green monster purple plant and…BOXES??definitely stands for glorp corp munchos and weldos (or that is what I think) and there is only one per each that maybe is used for tests…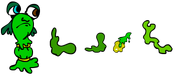 -open the first level to find chomly with a brown head instead of black……what a great start….same with spugg….both ears are yellow
-while all mixels have (kind of) the show's palette and concept's static artwork….series 4 (excluding burnard) just have lego's website artwork…..don't they have the concept arts…oh wait they do (in the cards menu)
-like I said the series 4 mixels have lego's artwork…..there the orbitans have blue shading and the max gray…..seriously
-the game have a lot of bugs and glitches and we can't forgot the CRASH
-a lot of fans hates the mixes in MR but I didn't blame the devs for that…..but I do blame them for the murps….only a recolor to kraw/slumbo murp…..why not something like….head as the body…..arms as leg…that would been acceptable….but no….they are to stupid to think logically
-for no reason not all series 1-3 are in the game….what because the memory???....90MB…..are you joking???why???there is a place for them…..if the problem was colors…..why the weldos are in the game the electroids also have yellow?...one day I gave my cousin to play MR and he was trying to make a max for electroids with….nope not (an) electrode(s) and (a) weldo(s)…..by (an) electrode(s) and (a) lexer(s)…to see that even the squares are unhelpful
-only one idea for bosses and level 6 levels….you chase…why one….i already have an idea of a boss that chase you and you need to hit him without being catched by balancing your speed…why only one idea??isn't that a good one
-berp and kramm have a redesign….because the artwork is looking to front…yeah….like gobba is nothing…and volectro….and magnifo…and niksput…AND NURP NAUT…..AND VAKA WAKA…
-kramm is cool but berp is a piece of sh*t…
-the levels music are cool…but they are the same music with different theme…(okay maybe weldos are not??)....i even feel that it is a remix of papyrus battle music
-when you lose….the mixel will get stars in his head….yeah that make sense
-from klinker land…..to the mixel moon…….then going back to lixer land……..HOW
-the trailer…..shows good old major nixel…not there….seismo and zaptor mix…..cragsters are rejected….
-level 7 of weldo land and 6 of glorp corp land…..get a 3 star in them…..and the game stars to crash…..you can't play it anymore….till you restart the game….and that happens only in android….
-the game is a prequel to QFTLM…..no one knows each other in QFTLM…didn't you all worked together in MR….snoof says that every day is the same…..yeah you don't remember….the day where the nixel storm tried to separate all mixels……right??
-maybe MR explained how did the series 4 characters came to mixel planet in QFTLM……because we go to the moon (for some reason) and we go back with them….right….RIGHT?……..no……the glowkies are in klinker land somehow
-when some mixels blink….they don't have right eyelids
-no font for japaness, Korean and Arabic
-ME, as an Arabic speaker……the translation is bad….more than google translate….words connect with each other….and translation errors….(e.i: one of them is that for some reason it says that snoof have two eyes…..)
-in the cutscenes…..the nixels have a different design than season 1…….but in the game over screen…..just like season 1…..when they animate……bad things happen
-the fang gang max right leg just like the left one
-the fang gang max right leg's art line just go through the body unlike mixels art style  
-some maxes legs just go off from where they should be…..see….i told you bad things happen when they animate
-all the maxes are the same…..run…..and destroy…they are OP (except the boss fights)
-some objectives are dumb, like make a mix/max that you can't make in the level(you should go back to other levels and collect them)
-remember when I said that I don't have a problem with the mixes….i said that because I thought that making animations for EVERY mix (since this is the idea of the game) will make a lot of memory for the game, but you know what….forget that. Because when you find the game files, you will see that every mixel has separated parts…..so….USE THEM HEAVY BOAT TO MAKE THE MIXES AS MUCH AS ORIGINAL….THERE ARE SOME FANS THAT USED THE ASSETS TO MAKE A 100 TIMES BETTER MIXES
HHHHHHHHHHHHHHHHHHHHHHHHHHHHHHHHHHHHHHHHHHHHH……..well….you are MAYBE asking (well you are probably not)…to this level the game is BAD??...no…there are some positives….NOT MUCH AS NEGATIVES
POSITIVES
-the music is still cool anyways
-the game is fun TO PLAY in your free time
-other than the mixels the game looks good
-the game looks TO ME….that all of it….is a creation made by a child who is a fan of mixels (that only have all series 4-6 with all of the electroids fang gang and wiztastics) and he tried to make his own story with it….because the mixes in game….looks possible to make irl
-kramm has a good redesign
-if we considered that the story is not canon, than that means that the game is better in story telling unlike CAM (i.e: in one of the cutscenes, it says that flain DID saw the mixels got captured, but he didn't. in the same cutscene, it also says that all mixels been putted in one safe, NO) and also….the game has an ending, unlike CAM….even if you beat it with five stars…..what a disappointment
-if they made a series 7-8 game, I am sure it would've been COOL as they made a small upgrade in the element of entertainment
-NO MICROTRANSACTIONS like cam, why did I said that. Because in 2016 both games were paid and even CAM THAT ALREADY HAVE MICROTRANSACTIONS
FINAL NOTE
The game would've been better if the devs have enough time to make the game, like CAM because from what it looks like, they were making the game since 2013 (beause from the game's concepts used prototype mixels) but they maybe said: NO we need to make a game for 2015 without delay, I think the game can be better tbh and if I was a programmer I was gonna make a remake for the game.
Community content is available under
CC-BY-SA
unless otherwise noted.