Warning! This page is Wiztastic territory.




MIX! The page you are about to view has something to do with the Mixel tribe of the Wiztastics. The Wiztastics are a traveling troupe of magicians known for putting on the most spectacular shows in the land.
I'm MorganJordan (or MJ for short). Check out my profile.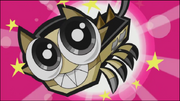 Mr. Bean

File:Mr-Bean-mr--bean-166155 598 328.jpg

Information
Debut
1st January 1990
Last Appearance
?
Nicknames (aka)
?
Tribe
?
Position
?
Gender Preference
Male

Color
Skin colour, tweed, white, red, black
Special Features
?
Likes
My British Leyland Mini
Mixels
Thomas and Friends (strangely)
McDonalds
KFC

Dislikes
Nixels
Bullies
Quote
"Are you feeling lucky, punk?"
Voice Actor
Myself
Game Abilities
?
Some things about me
I am 15 years old.
I live in Birmingham, England.
Sometimes I call myself "The Comedy Master".
Mixels from favourite to least favourite
Note: I don't hate any of the Mixels at the end. It was just hard choosing.
Tribes from favourite to least favourite
Wiztastics
Spikels
Frosticons
Glorp Corp
Infernites (2014)
Electroids
Fang Gang
Orbitonz
Infernites (2015)
Cragsters
Glowkies
Flexers
Favourite Mixel from Each Tribe
Neutral Mixel from Each Tribe
Least Favourite Mixel from Each Tribe
Favourite Mixel from each Series
Series 1 - Flain
Series 2 - Flurr
Series 3 - Magnifo
Series 4 - Nurp-Naut
Mixels I have
I don't own any Mixels yet, but I will hopefully be starting my collection soon.
Mixels from cute to not cute
Scorpi
Magnifo
Flain
Zaptor
Flamzer
Torts
Shuff
Flurr
Jawg
Globert
Teslo
Nurp Naut
Lunk
Footi
Glomp
Tentro
Wizwuz
Seismo
Gobba
Mesmo
Glurt
Kraw
Vulk
Niksput
Volectro
Rokit
Hoogi
Boogly
Chomly
Zorch
Slumbo
Burnard 
Vampos
Meltus
Balk
My Mixes and Murps (you are allowed to request me some)
Community content is available under
CC-BY-SA
unless otherwise noted.