Hello, Welcome To My Profile. I Am A 16-Year-Old Autistic Jewish Boy Who Likes Tons Of Stuff, Such As Mixels, SpongeBob SquarePants, And Dexter's Laboratory. I Am Known As Avromps1999 On YouTube, NewYorker1999 On Wikipedia, And TheBusBoy On NYC Transit Forums.
About Me
I Was Born On September 23, 1999 In Glen Oaks, New York, And I Live In Brooklyn, New York. I Like Doing A Lot Of Stuff, Which Is Shown In The Infobox On The Right.
Note: I Have All Of The Figures In My Family Household, But My Brother Has The Other Half Of The Theme. So Only My Figures Are Shown In This Section.
The Nixel Images Means That It Includes A Nixel, And The Cookironi Image Means That It Includes The Cookironi.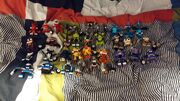 MCPD (Mixopolis City Police Department) (All Bought From Amazon)
Medivals (All Bought From Amazon)
External Links
Community content is available under
CC-BY-SA
unless otherwise noted.