About Sprinkles257...




Sprinkles257 has once made a Featured OC! Cheers for them!
Hi, nice to meet you! This where you can learn about me and junk. I love jokes, so a lot of the time I'm cracking a smile! I like you all and I hope some of you like me too. See ya! :P
This user is a Mailman!




That means that this user monitors the chat often!

Sprinkles
Hiya, it's Maya!
:D
Information
Joined Wiki
April 12th, 2015
Age
14 years old.
Tribe
Munchos/Spikels
Wiki Position
Chat Moderator!
Gender
Female
Likes
Undertale, FOOOOOOD, puns, friends of course, humor in general, active chat, music, etc.
Dislikes
Diseases, pain, dead chat, being hated, being ignored, uh...
Quote
Lol and XD
My favorite websites
YouTube
Tumblr
Twitter
Deviantart
This one!
Notes about me:
(Most recent update: 8/22/2018)
Please don't ask to be on the "friends list".
Please don't scare me, I am easily scared.
If I upset someone please let me know so I can apologize.
I can range from super silly to very serious.
I'm not on here very much any more, but I'm thankful for you visiting.
Most of my art on here is really old. XP
My favorite quotes from things I like:
"I'm tough and I love to eat rocks!!"
"(audible wink)"
"Is this a cubit? (holds up a sandwich)"
"OH NO!!! YOU'RE MEETING ALL OF MY STANDARDS! D:"
"Do you want to have a bad time?"
"Don't kill, and don't be killed, okay?"
"To mix, or not to mix? That is the question."
"We are the CRYSTAL GEMS!"
"CLODS!"
"Peridot...Are you okay?" "NO! :D"
And much much MUCH more!
Quotes by yours truly:
"LOL"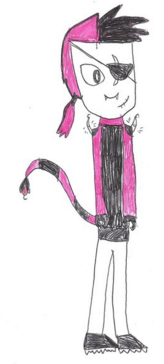 "jk"
"PFFFT-"
"soup."
(in no special order)AWESOME PEEPZ :
CMRdaawesomeguy, Pielordmatt, Flipfan, Dadaw, Graham02, MINICUPCAKE, Turg101, TheFrozenFrosticonsKings, Tungster830, Agentpman1, DeKrogMination, MixelJacobo101, TheSlowking11,ABoringGuy, MixelSark, FlainStorm, MlXJ3STlC,ToaMatau2004, and JoshTheKnife.
Signing:
Please sign my page if you want, thank you! :)
[[User:Penguin Scorn OH YEAH MR KRABS AAAAAAAAAAAAAAAAAAAAAAAAAAAAAAAAAAA]]
According to all known laws of aviation, there is no way a bee should fly. It's wings are too small too get its fat little body off the ground. The bee, of course, flies anyways. Because bees don't care what humans think is impossible. -User:dogdogdogdogdogdogdogdogdogdog
SkittlLISTICS! Taste the RainbowLLISTICS!!!!! -- Chrotorm
I am king Darius,I have dream! And now I'm feeling rather frightened that I wish someone would tell me what it means.--Aps17
first -PoolPyro/TFFK
Community content is available under
CC-BY-SA
unless otherwise noted.