Tags:

apiedit

,

Visual edit

(18 intermediate revisions by one other user not shown)
Line 1:
Line 1:
 

{{MOTM}}

 

{{MOTM}}

 

{{Featured OC Creator}}

 

{{Featured OC Creator}}

−

Hi, nice to meet you! This where you can learn about me and junk. I love jokes, so a lot of the time I'm cracking a smile! I like you all and I hope some of you like me too. See ya! :P

 
 
 
 

{{Template:Chat_Moderator}}

 

{{Template:Chat_Moderator}}

 
+

Hi, nice to meet you! This where you can learn about me. I'm just a nerdy teen making my way around the internet. I hope you enjoy your time here. :)[[File:Sprinkles257_title.png|thumb|Thank you CoinsCP!|318x318px]]{{UserInfobox|Color = Blue or purple|name = Sprinkles|image = Hiya, it's Maya!|caption = :D|joined = April 12th, 2015|age = 15 years old.|tribe = Munchos/Spikels|Wiki position = Chat Moderator!|gender = Female|likes = Video games, food, writing, drawing, reading, biology, psychology, puns and jokes in general, music, and friends of course!|dislikes = Illnesses, injuries, pain, rudeness, silly mistakes, etc.|quote = Lol and XD}}

 
 
−

==My favorite websites==

+

==My favorite websites==

 
+

YouTube

−

[[File:Sprinkles257_title.png|thumb|Thank you CoinsCP!|318x318px]]Youtube.com

 
 
 
 
+

Tumblr

⚫
 
 
 
 
+

Twitter

−

Google images

 
−

[[File:Sprinkles in Featured OC.PNG|thumb|364x364px|This is my mixsona! I use it as a virtual version as me as well. :)]]

 
−

{{UserInfobox|Color = Purple|name = Maya/Sprinkles257|image = |caption = Hello!|joined = April 12th|age = 12345666 years old.|tribe = Munchos/Spikels|Wiki position = Chat moderator!!|gender = Female|likes = Food, people (good ones, anyway), science, reading (sort of), puns, Undertale, interesting arguments, etc.|dislikes = Being ignored, getting yelled at, being hated, illness in any shape or form or level in severity, incest, pedophilia|quote = "lol" or "jk"}}

 
−

Deviantart

 
 
 
 
+

DeviantART

⚫
 
⚫
 
 
 
 
+

Discord

⚫
 
 
 
 
+

Reddit

−

Do NOT ask for personal information (Phone number, full name, full birth date, ETC.)

 
 
 
 
⚫
⚫
 
 
 
 
⚫
⚫
 
 
+

<nowiki> </nowiki>(Most recent update: 3/20/20)

 
 
 
⚫
−

=== '''My favorite quotes from things I like:''' ===

 
−

"I'm tough and I love to eat rocks!!"

 
 
 
 
⚫
−

"(audible wink)"

 
 
 
 
⚫
−

"Is this a cubit? (holds up a sandwich)"

 
 
+

[[File:Sprinkles icon.jpg|thumb|230x230px|This is my persona. It's what I look like in my style!]]

 
⚫
 
 
 
+

I'm not active here anymore, but I had a very nice time. You may find me on the MW Discord. Thanks for visiting, have a nice day!

−

"OH NO!!! YOU'RE MEETING ALL OF MY STANDARDS! D:"

 
 
⚫
−
 
−

"Do you want to have a bad time? (evil smile, eyes darken)"

 
−
 
−

"To mix, or not to mix? That is the question."

 
−
 
−

"We are the CRYSTAL GEMS!"

 
−
 
−

"CLODS!"

 
−
 
−

"Peridot...Are you okay?" "NO! :D"

 
−
 
−

And much much MUCH more!

 
−
 
⚫
 
 

"LOL"

 

"LOL"

 
 
Line 53:
Line 38:
 
 
 

"PFFFT-"

 

"PFFFT-"

 
+

[[File:Mixsona.PNG|thumb|373x373px|This is my mixsona! It also represents me, as a Mixel. :)]]

 
+

"Did you know that..." x 1 hundred

 
+
 
+

"Sorry!" x 1 quadrillion

 
+
 
+

"Goat cheese."

 
 
 
+

== (in no special order)'''AWESOME PEEPZ : ''' ==

−

"soup."

 
 
⚫
 
 
 
+

== '''Signing:''' ==

⚫
 
 
+

Please sign my page if you want, thank you! :)

−

You lived, great. NOW SIGN, OR ELSE. Just kidding, but please sign! ^^;

 
 

* nah i'm first http://mixels.wikia.com/wiki/User:PielordMatt NyahahahahaHAHAHAHAHAHAHAHAHHAHA

 

* nah i'm first http://mixels.wikia.com/wiki/User:PielordMatt NyahahahahaHAHAHAHAHAHAHAHAHHAHA

 

* joaje also first [[User:Graham02]]

 

* joaje also first [[User:Graham02]]

Line 68:
Line 60:
 

*According to all known laws of aviation, there is no way a bee should fly. It's wings are too small too get its fat little body off the ground. The bee, of course, flies anyways. Because bees don't care what humans think is impossible. -[[User:dogdogdogdogdogdogdogdogdogdog]]

 

*According to all known laws of aviation, there is no way a bee should fly. It's wings are too small too get its fat little body off the ground. The bee, of course, flies anyways. Because bees don't care what humans think is impossible. -[[User:dogdogdogdogdogdogdogdogdogdog]]

 

*SkittlLISTICS! Taste the RainbowLLISTICS!!!!! -- [[User:RainbowllisticChrotorm|Chrotorm]]

 

*SkittlLISTICS! Taste the RainbowLLISTICS!!!!! -- [[User:RainbowllisticChrotorm|Chrotorm]]

 
+

*I am king Darius,I have dream! And now I'm feeling rather frightened that I wish someone would tell me what it means.--Aps17

 
+

*first -PoolPyro/TFFK

 
 
 

{{Template:Chat_Moderators}}

 

{{Template:Chat_Moderators}}
---
Revision as of 20:25, 20 March 2020
About Sprinkles257...




Sprinkles257 has once made a Featured OC! Cheers for them!
This user is a Mailman!




That means that this user monitors the chat often!
Hi, nice to meet you! This where you can learn about me. I'm just a nerdy teen making my way around the internet. I hope you enjoy your time here. :)

Sprinkles
Hiya, it's Maya!
:D
Information
Joined Wiki
April 12th, 2015
Age
15 years old.
Tribe
Munchos/Spikels
Wiki Position
Chat Moderator!
Gender
Female
Likes
Video games, food, writing, drawing, reading, biology, psychology, puns and jokes in general, music, and friends of course!
Dislikes
Illnesses, injuries, pain, rudeness, silly mistakes, etc.
Quote
Lol and XD
My favorite websites
YouTube
Tumblr
Twitter
DeviantART
Discord
Reddit
This one!
Notes about me:
(Most recent update: 3/20/20)
Please don't ask to be on the "friends list".
Please don't try to scare me, I'm easily scared.
If I upset someone please let me know so I can apologize.
I can range from super silly to very serious.
I'm not active here anymore, but I had a very nice time. You may find me on the MW Discord. Thanks for visiting, have a nice day!
Quotes by yours truly:
"LOL"
"jk"
"PFFFT-"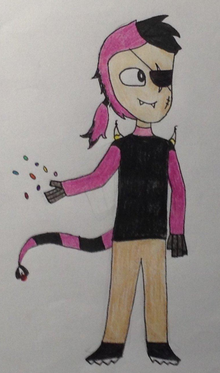 "Did you know that..." x 1 hundred
"Sorry!" x 1 quadrillion
"Goat cheese."
(in no special order)AWESOME PEEPZ :
CMRdaawesomeguy, Pielordmatt, Flipfan, Dadaw, Graham02, MINICUPCAKE, Turg101, TheFrozenFrosticonsKings, Tungster830, Agentpman1, DeKrogMination, MixelJacobo101, TheSlowking11,ABoringGuy, MixelSark, FlainStorm, MlXJ3STlC,ToaMatau2004, and JoshTheKnife.
Signing:
Please sign my page if you want, thank you! :)
[[User:Penguin Scorn OH YEAH MR KRABS AAAAAAAAAAAAAAAAAAAAAAAAAAAAAAAAAAA]]
According to all known laws of aviation, there is no way a bee should fly. It's wings are too small too get its fat little body off the ground. The bee, of course, flies anyways. Because bees don't care what humans think is impossible. -User:dogdogdogdogdogdogdogdogdogdog
SkittlLISTICS! Taste the RainbowLLISTICS!!!!! -- Chrotorm
I am king Darius,I have dream! And now I'm feeling rather frightened that I wish someone would tell me what it means.--Aps17
first -PoolPyro/TFFK
Community content is available under
CC-BY-SA
unless otherwise noted.