MEESTER FEEEEEEEEEEEEEEEEEEEEEEEEEEEEEEEEEEEEEEEEEEEEEEEEEEEEEEEEEEEEEEEEEEEEEEEEEEEEEEEEEEEEEEEEEEEEEEEEEEEEEEEEEEEEEEEEEEEEEEEEEEEEEEEEEEEEEEEEEEEEEEEEEEEEEEEEEEEEEEEEEEEEEEEEEEEEEEEEEEEEEEEEEEEEEEEEEEEEEEEEEEEEEEEEEEEEEEEEEEEEEEEEEEEEEEEEEEEEEEEEEEEEEEEEEEEEEEEEEEEEEEEEEEEEEEEEEEEEEEEEEEEEEEEEEEEEEEEEEEEEEEEEEEEEEEEEEEEEEEEEEEEEEEEEEEEEEEEEEEEEEEEEEEEEEEEEEEEEEEEEEEEEEEEEEEEEEEEEEEEEEEEEEEEEEEEEEEEEEEEEEEEEEEEEEEEEEEEEEEEEEEEEEEEEEEEEEEEEEEEEEEEEEEEEEEEEEEEEEEEEEEEEEEEEEEEEEEEEEEEEEEEEEEEEEEEEEEEEEEEEEEEEEEEEEEEEEEEEEEEEEEEEEEEEEEEEEEEEEEEEEEEEEEEEEEEEEEEEEEEEEEEEEEEEEEEEEEEEEEEEEEEEEEEEEEEEEEEEEEEEEEEEEEEEEEEEEEEEEEEEEEEEEEEEEEEEEEEEEEEEEEEEEEEEEEEEEEEEEEEEEEEEEEEEEEEEEEEEEEEEEEEEEEEEEEEEEEEEEEEEEEEEEEEEEEEEEEEEEEEEEEEEEEEEEEEEEEEEEEEEEEEEEEEEEEEEEEEEEEEEEEEEEEEEEEEEEEEEEEEEEEEEEEEEEEEEEEEEEEEEEEEEEEEEEEEEEEEEEEEEEEEEEEEEEEEEEEEEEEEEEEEEEEEEEEEEEEEEEEEEEEEEEEEEEEEEEEEEEEEEEEEEEEEEEEEEEEEEEEEEEEEEEEEEEEEEEEEEEEEEEEEEEEEEEEEEEEEEEEEEEEEEEEEEEEEEEEEEEEEEEEEEEEEEEEEEEEEEEEEEEEEEEEEEEEEEEEEEEEEEEEEEEEEEEEEEEEEEEEEEEEEEEEEEEEEEEEEEEEEEEEEEEEEEEEEEEEEEEEEEEEEEEEEEEEEEEEEEEEEEEEEEEEEESH
My Erotic (JK) Fanfics
I love to make comics. Unfortunately, I have no idea how to put them on here so instead I type them up as transcripts.
By the way, unless it's purposefully supposed to be a joke, I consider everything I make canon. I built up like a little storyline for the show out of the preexisting shorts and my fanfics. I love to make storylines. All the best shows have them.
Return of the King
King Nixel has returned to take his revenge on the citizens of Mixopolis, and it's up to Camillot and his friends to stop him!
http://mixels.wikia.com/wiki/Mixels_Wiki:Creative_Corner/Return_of_the_King
Time Travel Adventure
On a trip to the Mixel Moon, the Frosticon Cousins accidentally stumble onto the Orbitons' new invention and discover a range of new tribes!
http://mixels.wikia.com/wiki/Mixels_Wiki:Creative_Corner/Time_Travel_Adventure
My Youtube Channel
This is where I post videos, sometimes about Mixels, sometimes just random crap that I make when I'm bored. Remember to like and subscribe so I can make more people cringe.
https://www.youtube.com/channel/UCcqFp3Al0jbonpxHlT7o_Cw
My Mixsona Invunt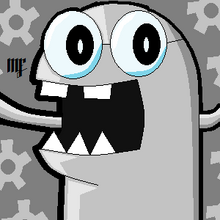 Worship the almighty Invunt and may he look upon you with a stare of MLG prowess.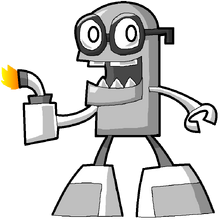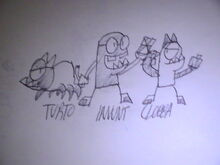 Community content is available under
CC-BY-SA
unless otherwise noted.