About JoshTheKnife...




JoshTheKnife has once made a Featured OC! Cheers for them!
Fresh from the orchards!




MINICUPCAKE has given you an Emwq (Pronounced "eemec"). Emwq's are given out to great staff by normal users and by staff to normal users. The Emwq dies if this doesn't happen, and nobody likes dead Emwqs.
Bogo!




Sprinkles257 has given you a Bogo. Bogos are given to awesome users. Enjoy your pet. Put this on your userpage to show you got a Bogo!
Bogo!




Gobba684 has given you a Bogo. Bogos are given to awesome users. Enjoy your pet. Put this on your userpage to show you got a Bogo!
Bogo!




Graham02 has given you a Bogo. Bogos are given to awesome users. Enjoy your pet. Put this on your userpage to show you got a Bogo!
Bogo!




Theslowking11 has given you a Bogo. Bogos are given to awesome users. Enjoy your pet. Put this on your userpage to show you got a Bogo!
This user is a Mailman!




That means that this user monitors the chat often!
This user is a Rollback!




That means that this user can revert bad edits with ease! They also get the powers of moderator as well!
JoshTheKnife


Ain't it cool?! Please tell me it is.
Information
Joined Wiki
October 12, 2014
Age
13
Tribe
Tribe? What, do I look like a Mixel?
Wiki Position
Rollback
Chat Moderator
Gender
Male
Likes
Art
Music
Mixels
Cartoons
Undertale
Computers
Henry Stickmin
Plants vs. Zombies
Browsing YouTube
Dislikes
Embarrassment
Controversy
Jumpscares
Insects
Drama
Quote
I GOT A KNIFE!
"Here's some life advice for ya: don't judge people based on their popularity. If they are popular, okay then. But, don't JUST praise someone because everyone else is so you can fit in. No, don't judge them on that, judge them on their personality traits. There's so much more to a person than just being popular. Not everyone may like their content too, but being popular isn't enough."
— Me
I'm Josh!
Heya! All of you might know me from DeviantArt formerly as JoshuaTheKid24. I made a new account as JoshTheKnife like this one. I also like editing on this wiki, going in the chatroom occasionally, and hanging with my friends here!
The Mixels Fandom: My Discovery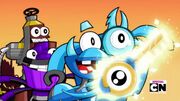 So, I basically found this franchise in a long story. It happened somewhere around the summer of 2013-2014. It was when a family friend of mine actually liked Mixels when I went over to his house. He was a 10-years-old at the moment. But, how I got into the fandom is when he showed me his Calling All Mixels app on his iPad. He showed me all the levels he played, the badges he earned, and everything! I thought I'd seen that before, I felt I was familiar with it. Heck, he even showed me a few of his LEGO MOCs which were actually impressive! I couldn't help it, but I felt Mixels was a cool franchise. When I got home, I went into my iPhone or iPod and I looked up a few character pages of the Wiki. I didn't know all their names, but I got further involved in even later months. Eventually, I slowly got interested in it, saw a few shorts, and bam! Here I am with a deep interest in Mixels!
Me and this Wiki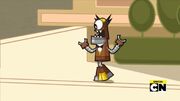 So, after I got into the fandom a bit, I was a wikia contributor who was rookie here, back when we still had comments on the pages. Ah, those days...but, the day I discovered this wiki was around mid-late 2014, until I eventually joined the actual Wiki on October 12, 2014 as you know me as JoshuaTheKid24! Well, technically, that was my old username until I changed it to "JoshTheKnife" a while back in April. I wasn't greatly involved here with the edits and whatnot, but my importance here kicked in further in 2015.
Me and DeviantArt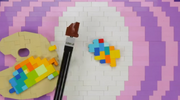 So, I found dA when I saw the artwork of a certain user here on this wiki. I saw the website, and decided to join! Of course, like this wiki, I was a silent user from the beginning of my time here and there, until I actually got further involved.
Me and Twitter
Holy sheesh, how many stories of about my social media life am I telling?! Ah, you know what? Whatevs, I'm gonna share it anyways. So, I'm gonna make this short, but this was one of my later sites joined. For a while, I felt as if this wiki's chat felt emptier than usual. So, I found out that there was a DM on Twitter where my friends also hang out. Curious of the DM, and the website itself of course, I joined an saw so much! I joined on March 30, 2016, and I'm happy on Twitter!
The Story of My Knife

Excuse the lame pun of a title. Anyways, I made this knife sort of like a logo thing to represent me. No no, I don't represent death, gore, blood, or chopping. But, think of it as a cool design or something!
My Top 5 Favorite Mixels
My Top 5 Favorite Tribes
Favorite Mixels from Each Tribe (Most to Least Favorites)
Favorite Mixels from Each Series
Favorite Tribes from Each Series (Most to Least Favorites)
LEGO Mixels
Currently, I have all Series 3, 4, 5, 6
Mixels (creature)
, the
MCFD
,
Sharx
,
Lewt
, and
Surgeo
with a few missing parts, including: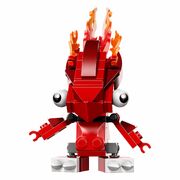 A black piece of Krog's foot.
Snoof's fin.
TONS of Scorpi's small silver spikes.
One of Rokit's laser guns.
A small flame piece.
A minifigure eye piece, specifically Dribbal's, but used Rokit's eye to replace it.
And many more.
Another fun fact: I tend to dismantle my Mixels when I'm bored, specifically the aftermath of creating a Mix and forgetting to de-mix them. This leads to several small events of dismantling more Mixels, thus causing some pieces to be lost...which I'm guilty about. XD
Mixels OCs
Main Tribes
Since I am a fan of the Mixels series, I made a few tribes myself.
Fanseries 1
Fanseries 2
Fanseries 3
Fanseries 4
Fanseries 5 (all in one)
Fanseries 6 (all in one)
Fanseries 7 (all in one)
Fanseries 8
Fanseries 9
Other
Trivia
I sometimes stress under pressure.

My personality you're asking me of, huh? Well, I can stutter a little, get lost in my words, I'm a bit silly, random, and nervous.

I use emoticons. Obviously. -_-
I'm not on this Wiki or chat because

A: Busy with school assignments (mainly)
B: Empty chat
C: Working on a drawing
D: Lazy/ehh

I DO get really carried away with my silliness at times. At the same time, I can get angry, so...
Random Gallery of Stuff
Also, here's my knives. You've read everything here, and now it's time to leave. Buh-bye! Adios! Happy departure! Hasta la vista! Bon voyage...are you done? Are you, are you finished? Just leave. Puh lease...ahem. MY knives are in front of you...ahem? Are you just gonna camp here forever? I mean seriously, you can leave now...good gosh. Okay, fine! Stay here for a while, I don't give a care!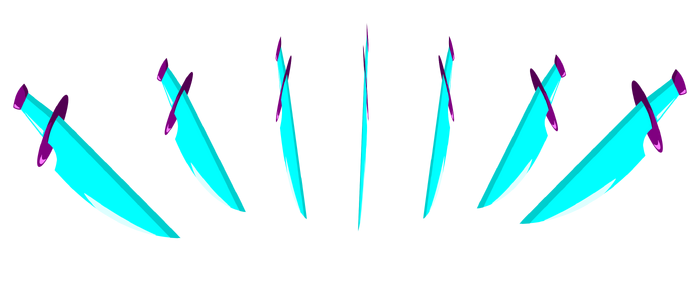 Community content is available under
CC-BY-SA
unless otherwise noted.