Bogo!




Geckoseal Ranger has given you a Bogo. Bogos are given to awesome users. Enjoy your pet. Put this on your userpage to show you got a Bogo!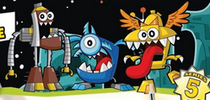 Hi, I'm Pizza Steve! I was originally JINKYTHELEADER(I now want to change my username BACK to JINKYTHELEADER). I'm glad I am a User on Wikia. These are my top 5 favourite mixels: Jinky, Tungster, Turg, Wuzzo and Chilbo.
Personality
I like my things a certain way and I like to read many books and the Mixels wiki is the main wiki that i go on. I also sometimes have a short temper and I can also get hungry quite easily. I also have an ever-long wish to be great at all sports. I am good at so far two sports: Soccer and Tennis.
Krog's Sandwich
Information
Joined Wiki
June 28 2015
Age
 ?
Tribe
Frosticons
Wiki Position
Member
Gender
Male
Likes
Mixels,
Making Mixels,
Jinky,
Tungster,
Turg,
Wuzzo,
Chilbo,
Spugg,
School,
Mixels Wiki,
Humming,
Reading books,
Geckoseals Wiki (My Wiki),
Geckoseals,
Wikia,
Tennis,
King Nixel
Dislikes
Failing at things
Quote
"Sure! It looks delicious!"
My favorite pages
Community content is available under
CC-BY-SA
unless otherwise noted.