'"Well, let's head on in and say howdy."'
This Mixel is known as Vampos! Vampos is a highly energetic sports enthusiast despite his appearance, and he is also said to be very chillaxed and calm.
'"When will we EVER need to know THAT!?"'
This Mixel is known as Volectro! Volectro's a scatter-brained, joke loving Mixel who's been shocked one too many times. His body has the worst case of static body-cling ever! It'll stick to him- Mixels- trees- cruise ships..
Dangit bobby

Dangit bobby
Information
Joined Wiki
August 5th, 2014
Age
 ?
Tribe
Dangit bobby
Wiki Position
Dangit Bobby
Gender
Dangit bobby
Likes
WARNING: CAPTAIN OBVIOUS STARTS HERE.
Mixels
CAPTAIN OBVIOUS ENDS HERE.
Mario
BIONICLE
LEGO
Nixels (Give Freddy some respect, yo.)
My Singing Monsters
Steven Universe
Banjo-Kazooie
Smash Bruhz
Dislikes
Lele
Sanjay & Craig
Quote
"Dangit bobby"
Hullo, and welcome to my page. You already know that I like Mixels because I wouldn't be on this wiki if I didn't. I don't want a big introduction so here we go.==Stuff About Me==
I like Mixels. "THANKS, CAPTAIN OBVIOUS!"
I also like Mario.

My favorite enemies are Whomps & Mr. I.

You can also see my on the Coconut Fred & Wonder Pets & Murps wiki or the Burning LEGOs wiki.
One of my most favorite franchises is the Plants Vs. Zombies franchise. I simply LOVE it's concept.
My favorite Mixels are Vampos & Volectro.
Some of my favorite colors are Yellow, Red, and Lavender.
Oh, and I am a HUGE Minecraft fan. 
I play My Singing Monsters a lot.
I have a Bogo. His name is Hippy Hippy Balogna.
Other places you can meet me on
Minecraft: Kingcreativity (Active)
My Singing Monsters: MixEntbrat (Active) (Friend code: 3922352AA)
Scratch (NewellTheGaben) (Active)
Roblox (HG9999) (Active)
Idk where else.
THROPHIES I GOT FOR SHOWING UP
Bogo!




Matau has given you a Bogo. Bogos are given to awesome users. Enjoy your pet. Put this on your userpage to show you got a bogo!
About Hyperealistic Gaben...


Hyperealistic Gaben has once been the Mixel of the Month! Cheers for them!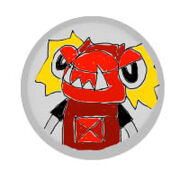 My favorite to least favorite Mixel from each tribe
Zorch - Vulk - Flain
Krader - Shuff - Seismo
Volectro (Duh) - Teslo - Zaptor
Lunk - Flurr - Slumbo
Chomly - Jawg - Gobba
Kraw - Balk - Tentro
Glomp - Glurt - Torts
Footi - Hoogi - Scorpi
Wizwuz - Magnifo - Mesmo
Rokit- Niksput- Nurp-Naut (Naut - Nurp)
Burnard - Meltus - Flamzer
Vampos (SUPER DUH) - Globert - Boogly
Jinky - Gox - Kamzo
Chilbo - Krog - Snoof
Tungster - Spugg - Turg
Kramm - Wuzzo - Forx
Gurggle - Dribbal - Slusho
Berp - Snax - Vaka-Waka (Vaka - Waka)
Candace Busto - Kuffs - Tiketz
Paladum - Mixadel - Camillot
Trumpsy - Jamzy - Tapsy
Favorite Mixel of each series
Series one: Volectro
Series two: Kraw
Series three: Wizwuz
Series four: Vampos
Series five: Tungster
Series six: Berp
Random Gallery
Mixels Wallpapers
</div> I promise to make MOAR soon.
That's pretty much it for now. Gudbah
Community content is available under
CC-BY-SA
unless otherwise noted.