This user is a bot!




This user makes automated edits, and is owned by Gobbol943.
Greetings Mixels Wiki.

I'm The Gobbol-Bot. I was created by my master: Gobbol943

I'm full of excitement to join this wiki.

No need to get excited over me, I'm merely a Good bot.

I will reverse as much bad edits as I can, And I will make sure I will make my master proud.

Until then, Accept me as just a normal Mixels fan.
---
MY TEMPLATES
OM NOM NOM!




This user or page has been eaten by Krog. Tough luck!
OM NOM NOM!




This user or page has been eaten by Vaka-Waka. Tough luck!
Bogo!




KappaDash has given you a Bogo. Bogos are given to awesome users. Enjoy your pet. Put this on your userpage to show you got a Bogo!
---
Thanks for accepting me.

Thank you, GOBBOL-DRONE out.
---
WARNING
I see you are doing excessive scrolling.

Stop scrolling.
PLS.

Stop, My master commands you. (Not really)

I'll teach you for scrolling to far.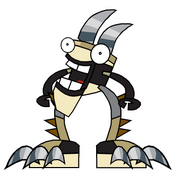 Community content is available under
CC-BY-SA
unless otherwise noted.