Hi! I am Flain0432 and this is my User Page.
Flain0432
Information
Joined Wiki
April 11, 2015
Age
?
Tribe
Infernites
Wiki Position
User
Gender
Male
Likes
Mixels, Minecraft, Computer Games, Writing, Reading, Drawing and Minions
Dislikes
Nixels, Spam, Rude things said to me and Bullying
Quote
"Hi"
Things About Me
I am a Mixel fan since February 2014 but I joined this Wiki on April 11, 2015. I like Mixels A LOT because they just seem to be really creative, funny, cute (yes cute but I mean SOME of them are cute) and collectible figures. I love to draw at home and other places, I don't really know why I love drawing but who cares. I like creating posters on the computer. I started doing this in May 2015 and from then I make computer posters. I collect Lego sets and put them on the shelves to look at and make it into a kinda display. I like Minions just because they are funny and I own the game Minecraft. I also am a fan of reading and writing in my spare time.
How I Got Into Mixels
Well it started in February 2014 when I got this magazine named 'TOXIC'. I know weird name. It was the first couple of pages and I saw some weird and wacky Monsters. It said that they are Mixels and they were Lego. After that I've spent months watch videos, collecting them and researching about them.
My Mixsona 'Pozo'
Pozo is my Mixsona that is from a tribe called 'The Bouncycods'. I started working on him in May 2015 (about a month after I joined this Wiki). His name was going to be 'Bondy' but I thought that it doesn't suit him that much so the name got changed to 'Pozo'. He is mostly purple in color. His toes are the color of dark blue. He has only two teeth but before in May 2015 he had six teeth so there were four at the top of his mouth.
Description:
Pozo is a friendly Mixel that protects his friends and brothers. He is a type of Mixel that never gives up or fails quests or missions. He has three legs to make poses if someone is making a drawing of him. He can bounce really high to destroy nasty little Nixels that think of plans to get rid of the Mixels.

Statistics:
Name: Pozo
Tribe: Bouncycods
Position: Leader
Gender: Male
Color: Purple, white, black, grey and dark blue
Special Features: Eye browns, Stretchy legs and Flexible body
Likes: Cookironis, Mixing, Maxing, Hamlogna sandwiches, bouncing, making random poses and Burky (my other Oc)
Dislikes: Nixels, Murping and being out of energy
Quote: "Let's Mix it to fix it!"
Pozo Gallery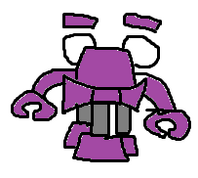 End of Gallery! More will be added in the future.
Things I don't like
People shouting ( Please don't ask)
Spam
RUDE things said to me
Nixels
Bullying

Mixels I Collected
Series 1- Complete
Series 2- Complete
Series 3- Complete
Series 4- Complete
Series 5- Complete
Series 6- Complete
Series 7- Complete
Series 8- Complete
Series 9- No
Favorite Mixel from each series
All time- Of course Flain
Series 1- Again Flain
Series 2- Lunk
Series 3- Scorpi
Series 4- Nurp-Naut
Series 5- Kamzo
Series 6- Wuzzo
Series 7- Busto
Series 8- Tuth
Series 9- Spinza
Mixel Games I own
Mixels Rush
Calling All Mixels
Favorite To Least Favorite Mixels Special
A Quest For The Mixamajig
Every Knight Has Its Day
Moon Madness
Mixed Up Special
That is all more will be added in the future! Thank You for viewing my User Page!
Community content is available under
CC-BY-SA
unless otherwise noted.