My main page for OCs. This page is currently WIP.
Main OCs
The Rokisplosives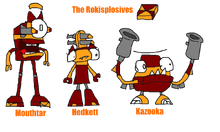 The Rokisplosives are a bunch of explosive-tempered Mixels that likes explosive things (especially rockets) . They're dark red and light orange in color.
Kazooka - Leader
This Mixel is outright short-tempered and goes to an unstoppable rage if he's offended. On the other hand, he's protective towards his tribemates and does his role as a leader responsibly.
Ability: He has cannons as hands and fires high damage rockets
Hedkett - Second Member
On the outside, she's a spoiled brat, very immature and angrish. On the inside, however, she's actually a nice girl and very heartfelt.
Ability: She has rockets on her head and she can fire it with directing her right arm forward. The rockets deal medium damage.
Mouthtar - Third Member
The weakest, yet the sanest Rokisplosive. He tends to calm down his tribemates when they're about to "hulk out". Unfortunately, they usually ignore him.
Ability: He can fire rockets from his mouth. He can also fires two extra rockets on the sides of his head. The rockets deal low damage, but it can launch enemies far away.
Tribe Additions
Additional members of the canon tribes
Infernites
These Infernites are more fierce and hot-blooded than the original Infernites and their cousins. Sometimes, these guys can't get along with their cousins. (Credits for PredaspakDrazor for the images)
Flamtail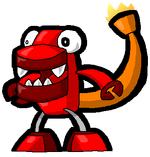 This guy is really, REALLY crazy. He messes with anything just for his amusement, and he laughs a lot more than Burnard. Even worse, he has a flaming tail that can burn up anything in touch.
Py-head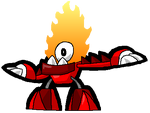 This Mixel is a literal hot-head, due to having a flaming head. He also take things seriously, including jokes. So, you can't be a jokester when this guy is around. And also, if you tick him off, he can light his claw hands on fire with his head for a painful punch. Don't mess with him!
Scornette
This Mixette apperars to be the only "sane" Infernite in her group. She patrols the Magma Wastelands using her flaming wings and extreme knowledge surpassing Flain, She's an Infernite who you wouldn't want to mess with. Aslo she has flamethrower hands, so watch out when giving her a handshake!
Frosticons
These Frosticons are more laid-back and less sleepy than the other Frosticons, But they aren't as colder as their cousins. (Credits to PredasparkDrazor again for the images)
Freez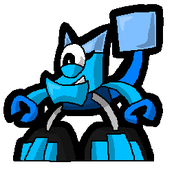 The cheerful gal of the trio. She's constantly curious and wants to know about everything, even when at the wrong time! Good thing she has a ice block tail for defense.
Koolt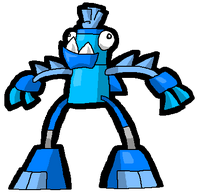 The tuff guy of the trio. He spends his free time pushing ice blocks everywhere around the Frozen Volcanoes, thus confusing his cousins. Don't question him why he doing this, though, as he'll ignore you or worse, punch you in the face. Although the latter only applies to Nixels...
Slidey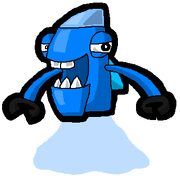 The smart guy of the trio. Slidey likes to dance and dance with his... iceberg legs...? Yeah, he has that. He slides with those. Although they're effective for escaping from Nixels and beating Zorch at a race, they're quite... slippery. Due to this, a day isn't a day for him without crashing into something, although he can control himself sometimes.
Community content is available under
CC-BY-SA
unless otherwise noted.