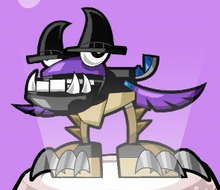 "You ready?"




This Mixel is known as Flain! Proud leader of the red-hot Infernites, Flain is the smart one of the group. But when he thinks too hard, his head catches on fire. Careful!
Bogo!




A user has given you a Bogo. Bogos are given to awesome users. Enjoy your pet. Put this on your userpage to show you got a Bogo!
"This is going to be... FABULOUS!"




This Mixel is known as Globert! Globert has as huge eye and brags that he can dazzle any audience.
Yo, name's Bria. But please call me Bri or Dark, whichever you prefer :P
Anyway, I'm just an average fan of Mixels and a bunch of other stuff. I also draw stuff and mostly put it on deviantART.
Darkspine16647
Information
Joined Wiki
August 21, 2014
Age
 ?
Tribe
Uhhh
Wiki Position
Member
Gender
Female
Likes
Mixels

Kirby Sonic Pokémon Other stuff

Dislikes
Mary Sues and Gary Stues

The Wiztastics Magnifo Zorch(a little)

Quote
Harro
Facts about me
I'm currently 13 years old.
I despise the Wiztastics. Don't ask why.
I sometimes love overrated and underrated Mixels
I like a bunch of crap
I'm pretty obsessed with almost everything
Community content is available under
CC-BY-SA
unless otherwise noted.