Trumpsy

Information
Debut
Every Knight Has Its Day
Last Appearance
Every Knight Has Its Day
Nicknames (aka)
None
Tribe
Mixies
Position
Member
Student
Gender Preference
Male
Color
Yellow
Purple
Grey
Special Features
Trumpet-like nose
Trumpet valves
Giant cheeks
Likes
Playing music
Pulling pranks
Dislikes
Nixels
Quote
None
Voice Actor
None
Game Abilities
None
"Last night, the live performance of the famous Mixies band took a most unexpected turn when Trumpsy blew so hard into the trumpet during an improvised solo that the eyes, microphone and drum sticks were blown off the musician's fellow band members. The concert resumed 5 minutes later."
— LEGO website, Mixopolis Breaking News
Description
Personality
This musician from Mix Orleans has a trombone for a head and big cheeks to blast out a loud tune. When Trumpsy is playing, everyone in Mixopolis knows about it! Just make sure no-one steals this Mixel's music collection.
Physical Appearance
Trumpsy has two big yellow cheeks, a purple mouth-like cylinder, a large trumpet's bell acting as his nose, and grey valves on the back of his head. On top of his eye is a yellow unibrow. He has two big, yellow feet with purple highlights and a pair of two sharp, but blunt toes. His shoulders are purple and his hands and arms are yellow. Finally, he has two circles on his stomach.
In the show, both his trumpet hole and mouth hole are darker, he is able to make facial expressions with his mouth, and has a smaller unibrow, which is more closer to his eye.
Ability
Origin
Trumpsy's trumpet nose has limited vacuum-like suction power. He also has the ability to mimic various sounds with his trumpet. With a strong enough breath, he is also able to blow away both props and body parts as well.
Biography
Early life
Not much is known about Trumpsy's early life, but he once lived in Mix Orleans, then later came to Mixopolis with his brothers Jamzy and Tapsy, where they became famous musicians.
First adventures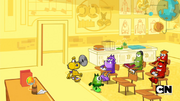 Trumpsy attends Mixopolis Middle School. ("Every Knight Has Its Day")
Further adventures
One day, during a music session, Trumpsy and his brothers had a noise complaint send to the MCPD by the Medivals over them not playing their music loud enough. After being threatened with arrest, the Mixies started to play louder, and all the tribes started to dance, closing the case. ("Mixopolis Music Mix-Up!")
During a gig in Mixopolis, Trumpsy and Jamzy went to see The Mixels Movie and it's sequel during Tapsy's drum solo that took up multiple hours. ("Mixies Drummer In 5-Hour Drum Solo")
Trumpsy blew away the eyes and instruments of his brothers after blowing his trumpet very hard. ("Trumpeter Blows Eyes Off Band Members In Solo")
Trumpsy and his brothers released an album, titled "Mix'N'Loud", which could only be played in full volume. ("Mixies Band Vows To Blow Away Audience")
Trumpsy and his brothers played a prank on the local police. ("The Music Prank")
Set Information
Trumpsy
Information
Series
7
Item Number
41562
Packaging
Yellow bag
No. of Pieces
54
Price
 $4.99


 $5.99
 €3.99
 £2.99
 29.95 kr

In-Booklet Code
None
Trumpsy was released as part of the Series 7 Mixels sets in the February 2016 product wave. His set number is 41562 and contains 54 pieces.
41562 Trumpsy can be combined with 41560 Jamzy and 41561 Tapsy to create the Mixies Max.
LEGO Shop product description
Get jazzy with Trumpsy!
This musician from MixOrleans has a trombone for a head and big cheeks to blast out a loud tune. When Trumpsy is playing, everyone in the Mixopolis knows about it! Just make sure no-one steals this Mixel's music collection.
Bring some classic jazz style to the LEGO® MIXELS™ Mixies with Trumpsy!
Trumpsy features a trombone head, squinting eye, round 'blowing' cheeks and posable joints, plus a music tape element.
Collect all 3 Mixies in LEGO® MIXELS™ Series 7 to build the MAX!
Combine with 41556 Tiketz from the MCPD tribe to create a fun new MIX!
Go to LEGO.com/MIXELS for exclusive building instructions, games, animations and much more.
Watch all your favorite MIXELS™ characters on Cartoon Network.
Stands over 3" (9cm) tall.
Sidebar description
Make MixOrleans musical magic with posable Trumpsy, featuring a trombone head and round 'blowing' cheeks, 1 of 3 Mixies featured in LEGO® MIXELS Series 7 sets.
Trivia
He is seen holding a tape recorder in his LEGO model, but not in cartoon form.
His eyelid is yellow in cartoon form, yet white in the LEGO model.
He is the first Mixel to use the 1x1 half-closed eye in his LEGO model. Splasho and Spinza also use this piece later.
He has an eyebrow in his cartoon form, but not in his LEGO model.
Despite trumpets having three valves, Trumpsy only has two, most-likely because three couldn't fit.
So far, he is the only cycloptic Mixel to use a 1x1 eye piece.
As shown in Every Knight Has Its Day, he is able to remove his trumpet, leaving a small, circular stub. This is probably done in order not to have his face blocked in still front shots.
Behind the Scenes
Name and basis
Trumpsy's name is a pun of the word "trumpet". He mostly resembles a trumpet, despite the fact that his bio says he has a "trombone for a head".
Voice
In the TV series, and where sound clips are used, Trumpsy's voice is unknown. However, as seen in the Musical Prank stop motion, he may communicate by blowing his trumpet.
Real-life history
Reveals
Trumpsy was first revealed as a character in the Mixels franchise when the Series 7 set list was leaked online on August 10, 2015.[1]
On October 11, 2015, official images of the sets of Trumpsy and the rest of Series 7 and 8 were leaked in LEGO's online server.[2]
Trumpsy reappeared with the rest of Series 7 through 9 at Toy Fairs in late January and early February 2016.[3][4]
Content
Trumpsy debuted in the TV series on March 5, 2016 in Every Knight Has Its Day, while his LEGO set officially became available on February 1 with the rest of Series 7.
Gallery
Main article: Trumpsy/Gallery
Appearances
Games

Other

Mixels Websites

Breaking News

Mixies Drummer in Five-Hour Marathon Solo
Trumpeter Blows Eyes Off Band Members in Solo
Mixies Band Vows to Blow Away Audience

Mini Movies

LEGO Club Magazines

Mixed Up Lunch!
Schoolhouse Mix-Up!
Sources and References
External links
Characters
Mixels

Nixels
King Nixel

/ Major Nixel

/ Muscle Nixel

/ Slap Nixel

/ Boomerang Nixel

/ Cannon Nixel

/ Boxing Nixel
/ Catch Up Nixel
/ Painted Nixels

/ Tentacle Nixel

/ Nixie

/ Nixel Guard
Other Species
Maximum Mixel

/ Mixamals
/ Living Flames

/ Chickens

Mixels Series 7 (February 2016)
LEGO sets
MCPD
41554 Kuffs
/ 41555 Busto
(Nixel) / 41556 Tiketz
(Cookironi)
MCPD Max


Medivals
41557 Camillot
/ 41558 Mixadel
/ 41559 Paladum
(Nixel)
Medivals Max

Mixies
41560 Jamzy
(Nixel) / 41561 Tapsy
/ 41562 Trumpsy

Mixies Max
Stopmotions

Wild Cookeroni Chase in Downtown Mixopolis! / The Music Prank
Community content is available under
CC-BY-SA
unless otherwise noted.