Line 13:
Line 13:
 
 
 

=== Meet The Fang Gang cutscene ===

 

=== Meet The Fang Gang cutscene ===

−

The Fang Gang use the totems to scare away nixels.

+

The Fang Gang use the totems to scare away .

 
 
−

=== Gobba is upset cutscene ===

+

=== Gobba is cutscene ===

 

Gobba carves a sad totem to show his feelings.

 

Gobba carves a sad totem to show his feelings.

 

==Types of Totems==

 

==Types of Totems==
---
Revision as of 21:34, 11 October 2014
"Oh boy, oh boy, oh boy! I've got one muck!"


This page is about a food or object found in the Mixels Land. It is considered canon in the Mixels franchise and may or may not be a mix of two real life objects.
Warning! This page is Fang Gang territory.


MIX! The page you are about to view has something to do with the Mixel tribe of the Fang Gang. The Fang Gang is the group with the biggest appetite, and they can get seriously crazy on an empty stomach.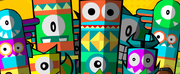 Totems are objects that are extremely common in the Farmlands that are created by Gobba. They come in a large variety of shapes, colors and sizes, and are used in the Fang Gang's Log Toss (and technically their Mixel Toss) games. Some totems hold cubits, notably Fang Gang cubits.
Background
Gobba is making a Mega Totem when he hears screams and runs of to help.
Chomly and Jawg are playing Log Toss and Mixel Toss with 6 totems.
Meet The Fang Gang cutscene
The Fang Gang use the totems to scare away Nixels.
Gobba is Upset cutscene
Gobba carves a sad totem to show his feelings.
Types of Totems
Smiling Totem (holds a cubit)
Monster Totem
Fang Totem
Crazy Totem
Cyclops Totem
Buck Tooth Totem
Kraw Totem (kind of)
Mega Totem (appears in Wrong Colors)
Sad totem (appears in Gobba's upset video)
Trivia
They can also be used to scare away invading Nixels, as seen on the Meet the Fang Gang cutscene in Calling All Mixels.
One can rack up points in Log Toss by hitting them.
For some reason after Gobba finishes making a totem by biting wood off a log the resulting totem is already colored without him having to color it.
Gallery
Community content is available under
CC-BY-SA
unless otherwise noted.