m

 

(22 intermediate revisions by one other user not shown)
Line 1:
Line 1:
 
+

{{ObjectInfobox

−

{{Object}}

 
 
+

|name = Totems

⚫
 
−

[[File:Totems!.png|thumb]]

+

[[File:Totems!.png|]]

 
+

|caption =

⚫

'''Totems '''are objects that are extremely common in the [[Farmlands]], and are created by [[Gobba]]. They come in a large variety of shapes,

colours

and sizes, and are used in the [[Fang Gang

|Fang Gang

's

]]

[[Log Toss]] (and technically their Mixel Toss) games. Some totems hold [[

Cubits

]], notably Fang Gang Cubits.

 
 
+

|imagesize = 230px

 
+

|seen = In [[Farmlands]]

 
+

|type = Carved, decorative wood

 
+

}}

 
⚫
 
 
−

== Background ==

+

==Background==

 
+

At some point in time, totems were carved all over the Farmlands by Gobba.

 
 
−

=== [[Wrong Colors]] ===

+

===[[Wrong Colors]]===

−

Gobba is making a mega totem when he hears screams and runs off to help.

+

Gobba a mega totem he screams and off to help.

 
+

[[File:Masterofthederp.PNG|thumb]]

−
 
−

=== [[Fang Gang Log Toss]] ===

+

===[[Fang Gang Log Toss]]===

−

[[Chomly/Gallery|Chomly]] and [[Jawg]] are playing Log Toss and Mixel Toss with 6 totems.

+

[[Chomly]] and [[Jawg]] are playing Log Toss and Mixel Toss with 6 totems.

 
+

[[File:Fang gang log toss chomly and jawg play.png|thumb]]

−
 
−

=== Meet The Fang Gang cutscene ===

+

===Meet The Fang Gang cutscene===

 

The Fang Gang use the totems to scare away [[Nixels (creature)|Nixels]].

 

The Fang Gang use the totems to scare away [[Nixels (creature)|Nixels]].

 
+

[[File:Securedownload (1).png|thumb]]

−
 
−

=== Gobba is Upset Cutscene ===

+

===Gobba is Upset ===

 

Gobba is seen carving a sad totem to show his feelings.

 

Gobba is seen carving a sad totem to show his feelings.

 
+

[[File:Poor totem.jpg|thumb]]

 

==Types of Totems==

 

==Types of Totems==

−

*Smiling Totem (holds a Cubit)

+

*Smiling Totem (holds a )

 

*Monster Totem

 

*Monster Totem

 

*Fang Totem

 

*Fang Totem

 

*Crazy Totem

 

*Crazy Totem

 

*Cyclops Totem

 

*Cyclops Totem

−

*Buck Tooth Totem

+

*Buck Totem

−

*Kraw Totem (kind of)

+

*Kraw Totem

−

*Mega Totem (appears in [[Wrong Colors]])

+

*Mega Totem (appears in Wrong Colors)

−

* Sad Totem (appears in Gobba's upset video)

+

*Sad Totem (appears in Gobba's upset )

−

* Fire Totem (appears in [[Calling All Mixels]])

+

*Fire Totem (appears in Calling All Mixels)

 
 
 

==Trivia==

 

==Trivia==

 
⚫
−
 
 
⚫
⚫
 
 
+

*The totems Gobba makes after biting into logs are already colored.

⚫
 
−

*For some reason, after Gobba finishes making a totem by biting wood off a log, the resulting totem is already colored without him having to colourit.

 
 
 
 

==Gallery==

 

==Gallery==

 
+

{{Main|Totems/Gallery}}

−
 
 
+

<center><tabber>

−
 
 
+

|-|Miscellaneous=

−

<gallery>

 
−

Totem5.png

 
−

Totem4.png

 
−

Totem3.png

 
−

Totem2.png

 
−

Totem1.png

 
−

GigaTotem.jpg|A giant totem

 
−

IExpressTotems.jpg|A sad-looking totem

 
−

</gallery>

 
−
 
 

{{Misc}}

 

{{Misc}}

 
⚫
 

{{FangGangNav}}

 

{{FangGangNav}}

 
+

</tabber></center>

 
+

[[Category:Canon]]

 
+

[[Category:Fang Gang]]

 

[[Category:Non mixed objects]]

 

[[Category:Non mixed objects]]

−

[[Category:Canon]]

+

[[Category:]]

 
+

[[Category:Series 2]]

 
+

[[Category:Season One]]

 
+

[[Category:Objects]]
---
Latest revision as of 10:19, 22 July 2019
Totems
Information
Appearances
In Farmlands
Type
Carved, decorative wood
Totems are objects that are extremely common in the Farmlands, and are created by Gobba. They come in a large variety of shapes, colors and sizes, and are used in the Fang Gang's Log Toss (and technically their Mixel Toss) games. Some totems hold cubits, notably Fang Gang Cubits.
Background
At some point in time, totems were carved all over the Farmlands by Gobba.
As Gobba was finishing a mega totem, he heard screams and ran off to help.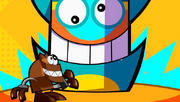 Chomly and Jawg are seen playing Log Toss and Mixel Toss with 6 totems.
Meet The Fang Gang cutscene
The Fang Gang use the totems to scare away Nixels.
Gobba is Upset cutscene
Gobba is seen carving a sad totem to show his feelings.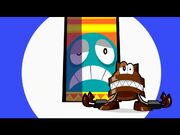 Types of Totems
Smiling Totem (holds a cubit)
Monster Totem
Fang Totem
Crazy Totem
Cyclops Totem
Buck-toothed Totem
Kraw-like Totem
Mega Totem (appears in Wrong Colors)
Sad Totem (appears in Gobba's upset clip)
Fire Totem (appears in Calling All Mixels)
Trivia
They can also be used to scare away invading Nixels, as seen in the Meet the Fang Gang cutscene in Calling All Mixels.
One can rack up points in Log Toss by hitting them.
The totems Gobba makes after biting into logs are already colored.
Gallery
Main article: Totems/Gallery
Community content is available under
CC-BY-SA
unless otherwise noted.