Torts is a Glorp Corp Mixel.
Description
Personality
Despite being the slowest of the Glorp Corp, Torts still enjoys running around and goofing off. Often seen with a huge smile on his face, Torts is a very cheerful Mixel who is never harsh or rude to anyone. He makes friends easily, enjoys cute things, is always jolly and ready to cheer someone up at all times, especially to Mixels that are in a bad mood.
Physical Appearance
Torts is mostly lime green in color. His body also acts as his head and is slightly tube-like in shape. There are darker green stripes on his sides and a green spine on his back. He has two dark green antenna- or pigtail-like protrusions on the top of his head. He has a nose-like beak and eyes on each side. In his mouth are two fangs that point downwards. Attached to his sides are two black sleeve-like objects that hold the slime that is part of his hands. His legs are grey, short, and bowed. His feet are large lime geometric shapes with darker green rectangles on their insides.
Ability
Origin
Torts can shoot gloopy, green slime from his hands. The goo can stick to the ground, causing a sticky pool that sticks Nixels to the ground.
Calling All Mixels
Ooze Pool: Form a large pool of slime, dealing damage to any enemies caught in it.
Slippery Slide: Snare enemies in a line of slime, then slide into them, knocking them back.
Fountain of Slime: Spin rapidly in place, shooting massive amounts of slime.
Biography
Early life
Little is known about Torts' early life.
First adventures
At a party, he managed to get kidnapped by the Nixels, and had to be rescued to help rescue the other Mixels. ("Calling All Mixels")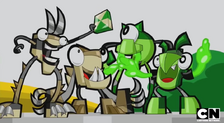 He was seen adoring Scorpi until Glurt scared him. Later on, after Scorpi and Glurt Murped, he and the rest of the Glorp Corp and Spikels chased after the Murp. He Mixed with Footi to try and catch the Murp, but the Murp slimed them off. After Glomp and Hoogi failed to capture the Scorpi & Glurt Murp, he skipped away and the others went to the Magic Tent. He and the rest then climbed the rafters to see the Murp on the other side of the rafters. Before Glomp could say they were out of Cubits, Mesmo showed up with a Rainbow Cubit. He and Mesmo Mixed and successfully captured the murp. However, Magnifo's trick broke the rafters and all of them fell into Magnifo's top hat. He and Mesmo split, along with the Scorpi & Glurt Murp, forming an inverted pyramid that ended up toppling onto Magnifo. ("Murp Romp")
Torts Maxed with his Glorp Corp brothers to help Footi fend off a swarm of Nixels. ("Glorp Corp Max")
Torts managed to break his leg, leaving him immobile in bed while others had fun outside. He Mixed with Scorpi to join the others. ("Scorpi & Torts Mix")
When Glomp was sick with a cold, Torts tried to help cheer his brother up. ("Glomp's Gooey, Sneezy Cold!")
Further adventures
Torts was one of almost all of the Mixels who searched and fought for the Mixamajig, and then captured by King Nixel. He Maxed with his branch of the Glorp Corp in order to defeat him, and Mixopolis was revealed by the Weldos soon after. ("A Quest for the Lost Mixamajig")
Memorable Quotes
"Yayaay!" - Torts, Murp Romp
"Well aren't you the helpful Mixel!" - Torts, Murp Romp
"GLURT!!" - Torts, Murp Romp
Set Information
Torts was released as part of the Series 3 Mixels sets in the September 2014 product wave. His product number is 41520 and he contains 48 pieces.
41520 Torts can be combined with 41518 Glomp and 41519 Glurt to create the Glorp Corp Max.
LEGO Shop product description
Gloop those nasty Nixels creatures with TORTS!
TORTS has bulky feet and is the slowest moving of the Glorp Corp tribe from the swamps. A slob who enjoys playing for thrills, TORTS shoots gloopy, green slime from its hands. Everything sticks to this turtle-like creature – which is great fun when goofing around and perfect for catching a Nixel or two!
Features translucent slime elements and posable joints
Collect all three members of the Glorp Corp tribe to build the super Mixels tribe combo
Combine with 41522 SCORPI from the LEGO® Mixels™ Spikels tribe for a crazy mixed-up Mixels creature
Go to LEGO.com/mixels for exclusive building instructions, animations, wallpapers and much more
Watch all your favorite Mixels characters on Cartoon Network
Play the game available for iOS and Android
Stands over 2" (6cm) tall
Sidebar description
Fire green slime from the hands of TORTS, one of three thrill-seekers from the Glorp Corp tribe featured in LEGO® Mixels™ Series 3 sets.
In-Booklet code
Tort's in-booklet code for Calling All Mixels is SL1MET1ME, which is SlimeTime when decoded. Once entered, it will unlock 25 Cubits and Fountain of Slime.
Background Information
Trivia
He usually runs around by attaching his gooey hands to the ground and sliding with them. This is because he is the slowest member of the Glorp Corp.
In some LEGO shots, Torts' slime appears yellow.
He has three fangs on his LEGO model, while in the cartoon, he has two. It is possible that his third fang is covered by his beak.
His bio states that he is very slow, but in Murp Romp, he runs quite quickly.
He once had a broken leg.
He produces the most slime out of all the Glorp Corp.
His giant foot pieces would later be used for Gurggle.
Behind the Scenes
Name and basis
Torts's name comes from the word "tortoise".
He also resembles said creature.
Voice
In the TV series, and where sound clips are used, Torts's voice is provided by Carlos Alazraqui.
Real-life history
Torts appeared with the rest of Series 1 through 3 at Toy Fairs in late January and early February 2014.
Torts debuted in the TV series on August 31, 2014 in Murp Romp, while his LEGO set officially became available on August 1 with the rest of Series 3.
Gallery
Main article: Torts/Gallery
Appearances
Games

Books

Other

Miscellaneous
Sources and References
External links
Characters
Mixels

Nixels
King Nixel

/ Major Nixel


/ Muscle Nixel

/ Slap Nixel

/ Boomerang Nixel

/ Cannon Nixel

/ Boxing Nixel
/ Catch Up Nixel

/ Painted Nixels

/ Tentacle Nixel

/ Nixie
/ Nixel Guard

/ Nixel Amalgamate

Other Species
Maximum Mixel

/ Mixamals

(Mixie Cat

)/ Living Flames

/ Chickens
Mixels Series 3 (September 2014)
LEGO sets
Glorp Corp
41518 Glomp

/ 41519 Glurt

(Nixel) / 41520 Torts


Glorp Corp Max

Spikels
41521 Footi

/ 41522 Scorpi
/ 41523 Hoogi

(Nixel)
Spikels Max


Wiztastics
41524 Mesmo

/ 41525 Magnifo

(Nixel) / 41526 Wizwuz


Wiztastics Max

Mixed Up Special (Epic Comedy Adventure / Murp Romp)

Stopmotions


Glorp Corp Max / Torts & Scorpi Mix / Wiztastics Max!