Description
Personality
Tentro is a very strong and smart Mixel. Despite these powerful strengths, he has some horribly serious confidence issues. He is a Mixel of few words and emotions and has a tendency to stick to the sidelines while feeling extremely awkward and shy around the other Mixels. He often likes to be alone with no Mixels around him and visits places that have a huge lack of crowds. He normally feels comfortable mixing with his fellow Flexers or friends that he used to knows a lot, especially Lunk. While he is the shy Mixel, he still knows how to have fun, and whenever he gets into something, he can grow enthusiastic and happy.
Physical Appearance
Tentro has a black rectangular body with a grey base and orange rectangles, an eye, and a short, black mustache-like tentacle on each side. On the top of his head is a tapering orange cone-like shape. He has four orange tentacles at his base with a grey stripe on the base, while in the middle of them consists of four lighter orange suckers on each. His jaw is orange, squarish, and has three teeth that point upwards. His eyelid color switches between dark grey and orange variously.
Ability
Origin
His tentacles can stretch to long lengths and act like whips to attack very quickly, this can be weakened by his lack of confidence.
Calling All Mixels
Tentacle Swing: Damage and knock back enemies with a powerful swing of your tentacles.
Snapback: Stretch your tentacles and smash into the ground, knocking down any nearby enemies.
Spinwheel: Spin rapidly while knocking back and damaging enemies.
Biography
Early life
Little is known about Tentro's early life. However, he managed to secure a job at the Hamlogna Conveyer Belt in the past.
First adventures
At a party, he managed to get kidnapped by the Nixels, and had to be rescued to help rescue the other Mixels. ("Calling All Mixels")
He took part in a diving contest and Mixed with Gobba to blow away the Nixel judges. ("Gobba & Tentro Mix!")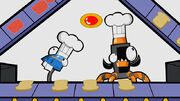 During his shift at the Hamlogna Conveyor Belt with Lunk, Zaptor cranked up the speed of their machine, forcing the two of them to Mix in order to keep up with the orders. ("Hamlogna Conveyer Belt Madness")
He was invited to Balk's birthday party. He was running late enough to help out Lunk in getting there by Mixing. ("Elevator")
Further adventures
During the annual Mix Festival, he was Nixed by the Mega Nixel Mixel Nixer, but was later returned to normal. ("Epic Comedy Adventure")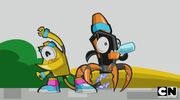 While exercising with Teslo in Mixel Park, he ended up slimed by the Scorpi & Glurt Murp. ("Murp Romp")
Tentro was a watcher of a Wiztastics performance. ("Wiztastics Max!")
Tentro, at some point, received a Mixamajig Key and was one of almost all of the Mixels who searched and fought for the Mixamajig, and then captured by King Nixel. He Maxed with his branch of the Flexers in order to defeat him, and Mixopolis was revealed by the Weldos soon after. ("A Quest for the Lost Mixamajig")
Set Information
Tentro was released as one of the Series 2 Mixels sets in the June 2014 product wave. His product number is 41516 and he contains 69 pieces.
41516 Tentro can be combined with 41515 Kraw and 41517 Balk to create the Flexers Max.
LEGO Shop product description
Capture Nixel attackers with the tentacles of TENTRO!
The incredibly elasticated TENTRO is one of the most powerful of the Flexers tribe from the Rubberlands. Despite being strong and super-intelligent, TENTRO lacks confidence. No one knows why, though, because this flexible Mixel has tentacles that pack a huge punch and the ability to climb any surface and capture any Nixel that attacks.
Features four tentacles and poseable joints
Selected Mixels also feature Nixels inside the pack
Collect all three Mixels in the Flexers tribe to build the super Mixel tribe combo
Combine with 41513 GOBBA from the LEGO® Mixels™ Fang Gang tribe for a quirky mixed-up Mixel
Go to LEGO.com/mixels for exclusive building instructions, animations, wallpapers and much more
Watch all your favorite Mixel characters on Cartoon Network
Play the game available for iOS and Android
Stands over 3" (9cm) tall
Sidebar description
Climb walls and grab Nixels with the tentacles of TENTRO, one of three flexible and bright orange Flexers in LEGO® Mixels™ Series 2.
In-Booklet code
Tentro's in-booklet code for Calling All Mixels is EL2AST1C, which is Elastic when decoded. Once entered, it will unlock 25 Cubits and Spinwheel.
Trivia
His tentacles are unusually short. Because of this, he uses his legs to flex and stretch instead. However, his tentacles are still usable as arms, as well. The only times he uses them are in Murp Romp and A Quest for the Lost Mixamajig.
His head is similar to Magnifo's hat in his LEGO model.
He and Teslo sport outdated aerobic gear when the two exercise together.
He is able to do an impression of a robot. His pupils seem to turn square-shaped when doing this.
Despite his description mentioning his lack of confidence, he does not show this trait in the show, being confident during Elevator.
Behind the Scenes
Name and basis
Tentro's name comes from "tentacle".
His design is based on a squid.
Voice
In the TV series, and where sound clips are used, Tentro's voice is provided by Phil LaMarr.
Elevator is the first and so far only episode where Tentro actually speaks. Whenever he speaks, he extends "I"-based sounds, which makes them sound like they are springing; fitting his elastic abilities.
Real-life history
Early development
Tentro was originally named Flexi.[6] He is often mistakenly referred to by this name, as in various descriptions for Hamlogna Conveyer Belt Madness, as well as the LEGO Club Magazine May/June 2014 issue.[7]
Reveals
Tentro was first initially teased as an orange silhouette on the display art for the initial reveal of Mixels Series 1 at San Diego Comic-Con International 2013.[8]
Tentro appeared with the rest of Series 1 through 3 at Toy Fairs in late January and early February 2014.[9][10]
Content
Tentro debuted in the TV series on June 5, 2014 in Hamlogna Conveyor Belt Madness, while his LEGO set officially became available on June 1 with the rest of Series 2.
Tentro also appears in the mobile app game Calling All Mixels, released on March 4, 2014 for iOS and April 2, 2014 for Android.
Gallery
Main article: Tentro/Gallery
Appearances
Sources and References
External links
Characters
Mixels

Nixels
King Nixel

/ Major Nixel


/ Muscle Nixel

/ Slap Nixel

/ Boomerang Nixel

/ Cannon Nixel

/ Boxing Nixel
/ Catch Up Nixel

/ Painted Nixels

/ Tentacle Nixel

/ Nixie
/ Nixel Guard

/ Nixel Amalgamate

Other Species
Maximum Mixel

/ Mixamals

/ Living Flames

/ Chickens
Mixels Series 2 (June 2014)
LEGO sets
Frosticons
41509 Slumbo

(Nixel) / 41510 Lunk

/ 41511 Flurr


Frosticons Max


Fang Gang
41512 Chomly

(Nixel) / 41513 Gobba

/ 41514 Jawg


Fang Gang Max


Flexers
41515 Kraw

/ 41516 Tentro

/ 41517 Balk

(Nixel)
Flexers Max
Wrong Colors / Nixel "Mix Over" / Bar B Cubes / Snow Half Pipe / Hamlogna Conveyor Belt Madness / Vaudeville Fun / Fang Gang Log Toss / High Five / Elevator

Stopmotions


Jawg & Lunk Murp / Kraw & Flurr Mix! / Gobba & Tentro Mix!