Sweepz

Information
Debut
Nixel, Nixel, Go Away
Last Appearance
Nixel, Nixel, Go Away
Nicknames (aka)
None
Tribe
Trashoz
Position
?
Gender Preference
Male
Color
Green
Black
Yellow
Lime
Special Features
Black nose
Brush hands
Broom-like tail
Likes
Showing off
Having fun
Eating Nixels
Dislikes
Nixels
Quote
None
Voice Actor
None
Game Abilities
None
"After weeks without a roof over their head, the three garbage Mixels have finally found a new home. 'It's got this really cool entrance', reports Sweeps[sic]. 'And there's lots and lots of dust coming into the house all the time. It's everything we've been looking for and more."
— LEGO website, Mixopolis Breaking News
Description
Personality
With brushes on each hand and a broom for a tail, this Trashoz tribe member should be able to clean the streets of Mixopolis in double-quick time. But Sweepz is easily distracted and likes to show off to passers-by. This can cause delays, so you might have to tell this fun-loving Mixel to get a move on!
Physical Appearance
Sweepz is mostly green in color. He has a rodent-like appearance with two sharp teeth on his top jaw, and two small buck teeth on his bottom. His arms are long and his hands are made up of green scrub brushes. He has a round black nose and two small black ears. He has short green feet with darker green toes. His tail is a brown broom. In the show, he has lighter green scrub brushes.
Biography
Early life
Little is known about Sweepz' past.
First adventures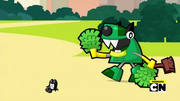 Sweepz is seen cleaning up, along with Compax and Gobbol, after the Nixels' invasion of Mixopolis. ("Nixel, Nixel, Go Away")
Further adventures
Sweepz and his brothers found a new home. ("Garbage Mixels Find New Home")
While the Nindjas were training, Sweepz and his brothers interrupted them, this led to both trios Maxing and the Trashoz Max eating the Nindjas Max. ("Nindjas vs. Trashoz")
Sweepz and his brothers prepared for Halloween. ("Get Those Rotten Fish Ready - It's Halloween!")
Out of nowhere, a banana peel fell on top of Sweepz and his brothers. ("Banana Peel Drops On Garbage Mixels")
Sweepz watched as Gobbol chased after a Nixel at high speed. ("Garbage Mixel Eats A Rotten Fish")
Set Information
Sweepz was released as part of the Series 9 Mixels sets in the October 2016 product wave. His set number is 41573 and contains 61 pieces.
41573 Sweepz can be combined with 41572 Gobbol and 41574 Compax to create the Trashoz Max.
LEGO Shop product description
Keep the streets of Mixopolis spotlessly clean with Sweepz!
Clean up in Mixopolis with Sweepz of the Trashoz tribe, featuring rotating brushes on each hand, a broom tail and posable joints. For more building and role-play fun, collect all 3 Trashoz featured in LEGO® MIXELS™ Series 9 to create the MAX. Alternatively, combine Sweepz with 41576 Spinza from the Nindjas tribe to build a fun new MIX!
Tidy the streets of Mixopolis with Sweepz, a fun-loving LEGO® MIXELS™ Trashoz tribe member.
Sweepz features large rotating brushes on each hand, a broom tail and posable joints.
Collect all 3 Trashoz in LEGO® MIXELS™ Series 9 to build the MAX!
Combine with 41576 Spinza from the Nindjas tribe to create a fun new MIX!
Go to LEGO.com/MIXELS for exclusive building instructions, games, animations and much more. Ask your parents' or guardians' permission before going online.
Watch allyourfavorite [sic] MIXELS™ characters on Cartoon Network.
This set includes an age-appropriate building experience for ages 6 and over.
Stands over 2" (6cm) tall.
Trivia
His toes are dark green in his animated model, whereas they are black in LEGO.
He is the only member of his tribe not to possess wheels for feet.
The green brushes for his hands are exclusive to his set; for they only came in blue, medium blue, and transparent light blue before.
He is the only one of his tribe to resemble an animal.
Behind the Scenes
Name and basis
Sweepz' name is a misspelling of the plural form of "sweep".
Sweepz resembles a squirrel.
Voice
In the TV series, and where sound clips are used, Sweepz' voice is unknown.
Real-life history
Reveals
Sweepz appeared with the rest of Series 7 through 9 at Toy Fairs in late January and early February 2016.[1][2]
Content
Sweepz debuted in the TV series on October 1, 2016 in Nixel, Nixel, Go Away, while his LEGO set officially became available on October 1 with the rest of Series 9.
Gallery
Main article: Sweepz/Gallery
Appearances
Sources and References
External links
Characters
Mixels

Nixels
King Nixel

/ Major Nixel


/ Muscle Nixel

/ Slap Nixel

/ Boomerang Nixel

/ Cannon Nixel

/ Boxing Nixel
/ Catch Up Nixel

/ Painted Nixels

/ Tentacle Nixel

/ Nixie
/ Nixel Guard

/ Nixel Amalgamate

Other Species
Maximum Mixel

/ Mixamals

/ Living Flames

/ Chickens
Mixels Series 9 (October 2016)
LEGO sets
Trashoz
41572 Gobbol
(Nixel) / 41573 Sweepz
/ 41574 Compax

Trashoz Max

Nindjas
41575 Cobrax
(Nixel) / 41576 Spinza
/ 41577 Mysto

Nindjas Max

Newzers
41578 Screeno
/ 41579 Camsta
(Nixel) / 41580 Myke

Newzers Max

Stopmotions

Nindjas vs. Trashoz / Nindja in an Epic Ice Sculpture Fail