Sunflowers are a type of flower in Mixel Land.
Description
Most sunflowers are yellow in the center, with orange petals and a green stem. Some are small and lifeless, while others are big and with a face. However, the cactus sunflowers found in the Spiky Desert are orange in the center with yellow petals.
Background
Sunflowers are seen growing out of the ground in the zoom out of the landscape while Zaptor is talking about the problems the pothole brings to the environment.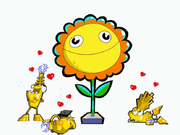 When Volectro finally finds a Cubit, the Electroids try to Max while touching it, prompting a giant smiling sunflower to come out of the ground. While the Mixels are admiring its beauty, giant vines grab and bring them into its mouth, causing them to max.
The Scorpi & Glurt Murp slimed many of the cactus sunflowers in the Spiky Desert, and bounced on top of one as well.
Trivia
It is one of the few signs of plant life in the land, other than trees.
The Spiky Desert is full of spiky versions of these, on top of cacti.
Gallery