The Spikels Max is a Max that made its debut in A Quest for the Lost Mixamajig.
Physical Appearance
Overall, this Max resembles Hoogi the most.
The Spikels Max has Footi's feet with darker tan highlights on the top and bottom with a black highlight underneath. He also has one triangular part on each foot. The legs are tan with grey joints on each other, and four spikes on each. He has a tiny version of Scorpi's tail, Footi's mouth with Scorpi, Hoogi, and Footi's teeth and two triangular tips on the back. He also has a nose, Scorpi's eyes, and Hoogi's triangular tip on the top. The hands have tan arms with two spikes on each, black attachment with a darker spike on each hand, and four spiky fingers.
Ability
Can make his shorter spikes pop up into taller and pointier spikes by crouching down.
Can fly as shown in A Quest for the Lost Mixamajig
Set Information
The Spikels Max can be built using parts combined from Mixels sets 41521 Footi, 41522 Scorpi, and 41523 Hoogi. Extra parts are leftover after construction. Instructions are available on the LEGO website downloads page.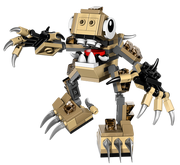 Trivia
He somewhat resembles a primate.
This Max is the first to substitute its body with its head, the second being Glowkies Max.
He, Klinkers Max, and Weldos Max are the only Maxes that use large eye pieces in the LEGO model.
In the set, he is the first Max to use three types of teeth.
He is recognized as being the cutest out of all of the Maxes.
He is the only Mixel-related character to have four fingers and toes.
He is the only Series 3 Max that does not have a LEGO stop motion video.
Two of his sharp claws are black in LEGO form, but silver in animated form.
He is the first Max to have four fingers, the second two being the Klinkers Max and MCPD Max.
He is one of the six Maxes with sharp toes, with the other 5 being the 2014 Frosticons Max, the Fang Gang Max, the 2014 Glorp Corp, the 2015 Glorp Corp and the MCPD Max.
Gallery
Main article: Spikels Max/Gallery
External links