Warning! This page is Frosticon territory!


MIX! The page you are about to view has something to do with the Mixel tribe of Frosticons. Slow-moving and chillaxed, the Frosticons spend most of their time power napping in sub-zero temperatures.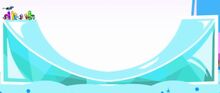 Snowboarding is a sport which is played mostly by the Frosticons.
How to Play
As being the Mixels version of skateboarding, there is technically no official goal. However, two players will Mix while they snowboard. Usually, the two Mixels mix to get back to the start of the ice half-pipe.
Shown Mixes include Kraw/Flurr Mix, Slumbo/Jawg Mix, and the Flain/Krader Murp.
Trivia
Like Rockball, this is based off of a game in real life.
It is based off of skateboarding. the mixels play it