Snoof and Tungster Mix[1] is the eleventh episode of the Mixels stop motions. It was released on July 27, 2015 on YouTube.
Synopsis
From LEGO Mixels Series 5 - Tungster is licking a tasty popsicle-tree perched on the side of a frozen cliff. Snoof shows up at the base of the cliff and wants some too! Unfortunately, Snoof cannot climb up the icy, slippery cliff to reach the popsicle-tree. Watch as Snoof and Tungster mix to find a solution![1]
Summary
Snoof is wandering through the Frozen Volcanoes when he notices Tungster licking up a popsicle tree. Snoof wishes to join him but is unable to climb up the hill. Tungster soars down with a Cubit and the two Mix, allowing both of them to enjoy the popsicle.
Characters
Major Characters
Mixes
Snoof & Tungster Mix
Videos
Gallery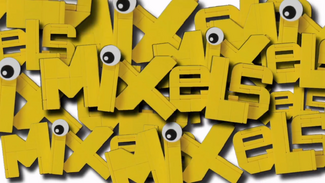 The image gallery for Snoof and Tungster Mix! may be viewed here.
Sources and References
Community content is available under
CC-BY-SA
unless otherwise noted.