Warning! This page is Flexer territory.




MIX! The page you are about to view has something to do with the Mixel tribe of Flexers. On the surface, they appear to be wild and dangerous, but in reality, the super stretchy Flexers are an intellectual bunch.
Slingshot
is a game the
Flexers
 mostly play.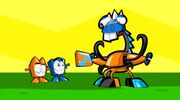 How to play
Slingshot is a game that involves the right kind of Mix like Balk and Lunk. To play a mixed Mixel has to use the main Flexer part to hold on to something. Then they have to launch themselves to see how far they can go.
Trivia
Balk and Lunk like the game.
It is required that you are either a Flexer, or Mixed with a Flexer.
It's similar to Angry Birds, but without destroying anything.
The game itself has not been seen in the show. the flexers play it
Community content is available under
CC-BY-SA
unless otherwise noted.