Warning! This page is Cragsters territory.


MIX! The page you are about to view has something to do with the Mixel tribe of Cragsters. The industrious miners known as the Cragsters live in a vast network of tunnels and caverns dug deep underground.
Seismo
Information
Debut
Coconapple (episode)
Last Appearance
 ?
Nicknames (aka)
 ?
Tribe
Cragsters
Position
 ?
Gender Preference
Male
Color
Grey
Special Features
One eye
Bull horns
Earthquake-causing feet

Height

Likes
Having fun
Coconapples[1]
Cookironies[2]
Flain[citation needed]
Dislikes
Nixels
Zorch[3]
Quote
"Rad fun, rad fun!"
Voice Actor
 ?
Game Abilities
 ?
Seismo
File:Seismo Set.png
Information
Series
1
Item Number
41504
Packaging
Grey polybag
No. of Pieces
50
Price
$4.99 USD
In-Booklet Code
 ?

Seismo is a Cragsters Mixel. He is voiced by Tom Kenny in the shorts and all other material.
Description
Seismo is a quiet and shy Cragster with huge feet. He can cause an earthquake or avalanche to bury Nixels with them!
Background
Seismo and Zorch mix to get a coconapple off of the tree, which Seismo desperately wants. In the end, Zorch eats the coconapple that knocked out Seismo.
Seismo is one of the Mixels sitting back, enjoying cookironis. Suddenly, he and the others are trying to fight for the last one.
Krader has the idea to have a digging contest. The Cragsters finish, but Krader is missing. They end up finding him held captive by the Electroids. Seismo and Shuff think that they are sacrificing Krader, but the Electroids are just preparing for the Electroid Annual Dance Party. Later, the Cragsters decide to join in the dance party and they mix to a max. The Cragster Max participates in the dance contest against the Electroid Max in the end.
Seismo helps Flain fend off many annoying Nixels, as the creatures try to ruin the friends' lava slide. Eventually, Seismo steps on a Nixel with his large feet.
Seismo is seen at the barbecue party, and is burnt at the end.
Seismo is the first to help Shuff attempt to catch Zorch to get the package Shuff was expecting. He tries blocking him with a large boulder, but to no avail. He later mixes with Shuff and Krader to create the Cragsters Max to "Crush Zorch's rush!"
Seismo appears at the end, mixed with Zaptor, and injures Major Nixel. A Nixel brings him to Nixels Land, who is successful in bringing back the cubit.
Seismo is one of the players in Rockball, but Flain catches the ball on fire, so he and Krader come up with the idea for Mixelball. Seismo and the other Mixels then join in.
Seismo and the gang are heading in the elevator, but no room for Lunk.
Relationships
Seismo is best friends with Flain and often rides on lava slides and give each other hugs with him. But he dislikes Zorch (for whom he is very afraid to mix with). It is unknown to what Seismo thinks about Vulk.
He might have a good relationship with Balk , due to being invited to his birthday party, unknown for the rest of the Flexers
Set Information
Seismo was released as one of the Mixels sets in the March 2014 product wave. His product number is 41504 and contains 50 pieces.
Trivia
He is known as the shy one, and he gets scared quite easily.
His name is a pun on the word "seismic".

Not just "seismic", but also the prefix "seismo-", meaning earthquake.[4]

He is best friends with Flain.
His signature favorite food is a Coconapple.
He can only say a few words, and grunts sometimes.
He only has one Murp.
He appears in the most episodes, alongside Krader.
Seismo is the first Mixel to have huge feet.
He is often mistaken as the leader of the Cragsters.
He was originally meant to be called "Shuff", with Shuff instead being called "Seismo" in his place.
Gallery
Set
Artwork
Combinations
Cartoon
Mixes
Murps
LEGO
Mixes
Murps
Video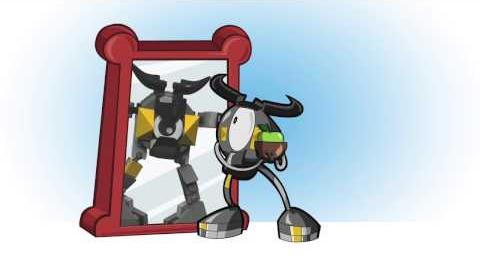 Characters
Mixels

Nixels
King Nixel

/ Major Nixel

/ Muscle Nixel

/ Slap Nixel

/ Boomerang Nixel

/ Cannon Nixel

/ Boxing Nixel
/ Catch Up Nixel
/ Painted Nixels

/ Tentacle Nixel

/ Nixie

/ Nixel Guard
Other Species
Maximum Mixel

/ Mixamals
/ Living Flames

/ Chickens