Scre

eno


Forms
Information
Debut
Nixel, Nixel, Go Away
Last Appearance
Nixel, Nixel, Go Away
Nicknames (aka)
Dude (Myke)
Your news Mixel on the street (Himself)
Tribe
Newzers
Position
Leader
Gender Preference
Male
Color
Black
Red
Blue
Yellow
Special Features
TV-like head
Microphone
Tie
Glasses/Glass Screen
Likes
?
Dislikes
Nixels
Quote
"I smell a story..."
Voice Actor
Tom Kenny
Game Abilities
None
Description
Personality
This sharp-dressed member of the Newzers tribe is not just a pretty TV-shaped face— Screeno is a director, writer, producer and reporter for MIX TV all in one! When MIXELS™ want the news, they always look to this smooth-talker with a microphone in hand to deliver the latest big stories!
Physical Appearance
Screeno is mostly blue in color. He has a large, black, TV-like head with two large eyes with glasses on each of them, brown eyebrows, and two antennae on top of his head. His mouth is fairly large, with large squared-off teeth. He wears a yellow necktie. His arms are blue with yellow details and pincer hands. His feet are short, colored black, and have grey lines on the backs of them. He carries a microphone with him.
In the cartoon, the screen now covers his entire face, rather covering half of it as glasses
Biography
Early life
Little is known about Screeno's past. However, at some point in time, he began working for Mix TV as a reporter.
First adventures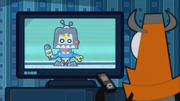 Via Mix TV, Screeno served as Mixopolis' reporter on the scene of the Nixels' "I-Cubit" fad which ended up nixing innocent Mixels. ("Nixel, Nixel, Go Away")
Further adventures
Screeno and his brothers reported live from a glass of milk. With experts agreeing it was a historic event. ("Upcoming Event: Reporting Live From A Glass Of Milk")
Screeno and his brothers shot a scene of Spinza carving an ice sculpture, only for failure to ensue. ("Nindja in an Epic Ice Sculpture Fail")
Screeno reported Spinza's news of him offering free ninja lessons. ("Spinza Offers Ninja Lessons For Free!")
Memorable Quotes
"Cut. Who writes this stuff? It's so grim. Whatever happened to those happy, colorful stories we used to do?" - Screeno, Nixel, Nixel, Go Away
"This is Screeno, your news Mixel on the street. You, sir. Why would you trade color for black and white?" - Screeno, Nixel, Nixel, Go Away
"And that's how one small Mixel saved Mixopolis!" - Screeno, Nixel, Nixel, Go Away
Set Information
Screeno was released as part of the Series 9 Mixels sets in the October 2016 product wave. His set number is 41578 and contains 73 pieces.
41578 Screeno can be combined with 41579 Camsta and 41580 Myke to create the Newzers Max.
LEGO Shop product description
Report the news in style with Screeno!
Deliver the top news scoops with TV reporter Screeno, featuring a TV-head design with an opening mouth and gleaming teeth, suit and tie, plus a microphone element. For more building and role-play fun, collect all 3 Newzers featured in LEGO® MIXELS™ Series 9 to create the MAX. Alternatively, combine Screeno with 41574 Compax from the Trashoz tribe to build a fun new MIX!
Seek out the top news stories with Screeno of the LEGO® MIXELS™ Newzers tribe.
Screeno features a TV head design with an opening mouth, big white teeth, eyebrows, TV-screen glasses, suit and tie and posable joints, plus a microphone element in hand for extra play.
Collect all 3 Newzers in LEGO® MIXELS™ Series 9 to build the MAX!
Combine with 41574 Compax from the Trashoz tribe to create a fun new MIX!
Go to LEGO.com/MIXELS for exclusive building instructions, games, animations and much more. Ask your parents' or guardians' permission before going online.
Watch all your favorite MIXELS™ characters on Cartoon Network.
This set includes an age-appropriate building experience for ages 6 and over.
Stands over 3" (8cm) tall.
Trivia
He has the most parts of any LEGO Mixel without a Nixel, Wuzzo has 74 pieces with the help of King Nixel, without King Nixel, he has only 57 pieces.

In the amount of pieces in general, Screeno has the 2nd largest amount of pieces, 1 piece away from Wuzzo.

Like Scorpi, his eyes are big and use the 2x2 eye tiles in his LEGO set. However, in animated form, his irises are smaller compared to Scorpi's.
His shirt, tie and microphone make him similar to one of the Kraw and Gobba Mixes.
He is the only member of his tribe without the Mix TV logo anywhere on him.
Screeno is the last Mixel ever to appear onscreen in the series; with the first onscreen being Flain in Coconapple. Ironically, they are both voiced by Tom Kenny and both are leaders of their respective tribes.
Screeno's tie is orange in his LEGO set, but yellow in his animated form.
Behind the Scenes
Name and basis
Screeno's name is a play on the word "screen", as in a television screen. He also resembles said object.
Voice
In the TV series, and where sound clips are used, Screeno's voice is provided by Tom Kenny.
Real-life history
Reveals
Screeno appeared with the rest of Series 7 through 9 at Toy Fairs in late January and early February 2016.[1][2]
Content
Screeno replaced Flain, Slumbo, Torts, Rokit, Gox, Kramm, Jamzy and Skulzy for Series 9 on the icon for Mixels on the LEGO.com Products page. He was the final Mixel to appear on this icon, as Series 9 concluded Mixels' run.
Screeno debuted in the TV series on October 1, 2016 in Nixel, Nixel, Go Away, while his LEGO set officially became available on October 1 with the rest of Series 9.
Gallery
Main article: Screeno/Gallery
Appearances
Merchandise
Games
Other
Mixels Websites

Breaking News

Series 9
Upcoming Event: Reporting Live from a Glass of Milk
Spinza Offers Ninja Lessons for Free!

LEGO Club Magazines

Mixed Up News Report!
Secret Mixel Message!

The LEGO Book
Sources and References
External links
Characters
Mixels

Nixels
King Nixel

/ Major Nixel


/ Muscle Nixel

/ Slap Nixel

/ Boomerang Nixel

/ Cannon Nixel

/ Boxing Nixel
/ Catch Up Nixel

/ Painted Nixels

/ Tentacle Nixel

/ Nixie
/ Nixel Guard

/ Nixel Amalgamate

Other Species
Maximum Mixel

/ Mixamals

(Mixie Cat

)/ Living Flames

/ Chickens
Mixels Series 9 (October 2016)
LEGO sets
Trashoz
41572 Gobbol
(Nixel) / 41573 Sweepz
/ 41574 Compax

Trashoz Max

Nindjas
41575 Cobrax
(Nixel) / 41576 Spinza
/ 41577 Mysto

Nindjas Max

Newzers
41578 Screeno
/ 41579 Camsta
(Nixel) / 41580 Myke

Newzers Max

Stopmotions

Nindjas vs. Trashoz / Nindja in an Epic Ice Sculpture Fail