Rokit Sauce is a type of condiment in the Mixelverse. It is named after Rokit and may be created by him.
Description
Appearance
The bottles of Rokit sauce is simply a red condiment bottle with a yellow firey design on it with the words "Rokit Sauce" on it as well, in yellow.
The sauce itself, however, is purely maroon.
Background
During the welcoming party for the Infernites stumbling upon the Mixel Moon, Rokit displayed his special brand of sauce called "Rokit Sauce", which was eventually stolen by Nixels. Burnard mixed with him to get it back, only to serve it to the Nixel with crater tots, to the point that he could not handle the spice. Afterwards, he coated Rokit sauce on crater tots, asking for any offers to his friends, only to eat the entire plate and cause his head to explode.
Trivia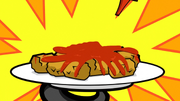 It is ridiculously spicy, to the point that it can cause large mushroom cloud explosions when a Nixel eats it and send enough force to blast them a distance away, along with blowing Rokit's head off.
It is often served with crater tots.
Rokit seems to be the only one that enjoys it. Despite this, he is also unable to endure the spiciness of it.
It sometimes gives off an almost molten look to show how spicy it is.
It slightly resembles a real life ketchup.
Community content is available under
CC-BY-SA
unless otherwise noted.