Rocks are a food from Mixel Land.
DescriptionEdit
AppearanceEdit
Like common real life rocks, these rocks are craggy and grey-colored.
BackgroundEdit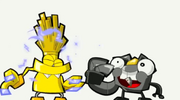 Krader was eating rocks until some of Volectro's Zap Zaps land in his mouth. Although angry at first, he finds the combination delicious in the end, and he and Volectro Mix to set up a Rock Pops stand.