m

Line 12:
Line 12:
 

* At the end of [[Rockball (episode)|Rockball]], [[Flain]] accidentally invents the new sport, [[Mixelball]].

 

* At the end of [[Rockball (episode)|Rockball]], [[Flain]] accidentally invents the new sport, [[Mixelball]].

 

* It is really just a game of volleyball, but with a big rock rather than a white ball.

 

* It is really just a game of volleyball, but with a big rock rather than a white ball.

−

*Like the [[Cragsters]], Flain loves Rockball.

+

*Like the Cragsters, Flain loves Rockball.

 
 
 

{{Misc}}

 

{{Misc}}
---
Revision as of 00:33, 8 September 2014
Warning! This page is Cragsters territory.


MIX! The page you are about to view has something to do with the Mixel tribe of Cragsters. The industrious miners known as the Cragsters live in a vast network of tunnels and caverns dug deep underground.
Rockball is a sport which the Cragsters play.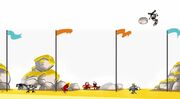 How to Play
Rockball is a game of free-for-all or teams. If played with teams, each team must have the same amount of players as the opposing team. The goal of Rockball is to hit ALL opposing players or teams using the given rock.
Trivia
It is really just a game of volleyball, but with a big rock rather than a white ball.
Like the Cragsters, Flain loves Rockball.