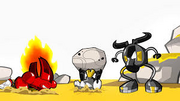 Rockball is a sport which the
Cragsters
play.
How to Play
Rockball is a game of free-for-all or teams.If played with teams, each team must have the same amount of players as the opposing team. The goal of Rockball is to hit ALL oposing players or teams using the given rock.
Trivia
It is really just a game of Dodgeball, but with a rock, not multiple rubber balls.
Like the Cragsters, Flain loves Rockball.