The Pyrratz Max is a Max that did not appear in the cartoon.
Physical Appearance
Overall, this max resembles Lewt the most.
Background
The Max was formed to escape the MCFD and Medix after a failed bank robbery attempt. ("Attempted Bank Robbery")
Set Information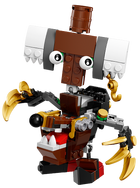 The Pyrratz Max can be built using parts combined from Mixels sets 41566 Sharx, 41567 Skulzy, and 41568 Lewt. Extra parts are left over after construction. Instructions are available on the LEGO website downloads page.
​Trivia
He resembles a pirate ship.

This makes him the only Series 8 Max not to resemble a modern day vehicle.

At Nuremburg Toy Fair, his feet were turned backwards.
He is the tallest Max.
His nose and jaw resemble a bear's.
Gallery
Main article: Pyrratz Max/Gallery
External links
Mixels Series 8 (June 2016)
LEGO sets
MCFD
41563 Splasho
/ 41564 Aquad
/ 41565 Hydro
(Nixel)
MCFD Max


Pyrratz
41566 Sharx
/ 41567 Skulzy
(Nixel) / 41568 Lewt

Pyrratz Max


Medix
41569 Surgeo
/ 41570 Skrubz
(Nixel) / 41571 Tuth

Medix Max

Stopmotions

Attempted Bank Robbery / Strange Medix Mixels experiment creates new Mixels Max
Community content is available under
CC-BY-SA
unless otherwise noted.