This article is about something that was cut or scrapped




This article contains information about an unreleased subject that did not make the cut and was published by crew members.
Since Mixels began, many prototypes have been made by LEGO and found online. A prototype is a first, typical or preliminary model of something, especially a machine, from which other forms are developed or copied. This page encompasses all of the prototypes in the theme's history.
For the Cartoon Network equivalent, see Concept Art.
LEGO (Hungry) Monsters
"The two companies joined forces when Cartoon Network Studios had an interest in creating original content based on the inherent open-ended values of LEGO® play, at the same time that The LEGO Group was exploring a new concept involving small creatures – and Mixels was born."
— Official Mixels press release
LEGO Monsters
, also called
Hungry Monsters
, was an idea for a
LEGO
theme that later became
Mixels
.
[1]
Like Mixels, it would have consisted of different brick-built creatures.

History
Sometime in the past (most likely around 2012), LEGO created a small line of prototype Monsters. Around the same time, Cartoon Network wanted to co-create a theme with LEGO. LEGO and Cartoon Network worked on the Monsters idea and formed Mixels.
Sketch Models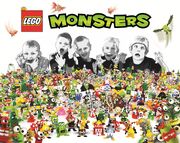 Little is known about the actual Monsters models besides their similarity to Mixels. The models appear to have been slightly smaller than Mixels. Several of these sketch models look similar to the Mixels that would be released in their place. The original concept seemed to have up to five to a tribe, with much simpler designs. They still retained the mix-and-match idea of Mixels, which was the driving point to Cartoon Network.
Some of the current Mixel tribes share color schemes with the preliminary Monsters designs, possibly contributing to the colors.
They appear to have had different pieces, such as a 1x1 half-closed eye piece with a colored eyelid and a less detailed Technic ball eye piece.
Concept tribes
When making a series of Mixels, the designers would come up with multiple tribes ideas and would pick the strongest from the range. [2]
Unknown tribes
There are other tribes that were cut that "were fun", according to Andy Seenan. [3]
Chocolate Bar
According to Andy Seenan, the character
Chocolate Bar
from
The LEGO Movie 2
was originally a concept model from an unreleased tribe, possibly from a food tribe.
[4]
Unknown Green tribe
A picture of a boy with a green mixel was found in a press conference from 2013.[5] suggesting that the glorp corp tribe was in development very early, context of the photo is unknown.
Unknown Black&Orange Tribe
On the previously mentioned press conference, a black&orange mixel is seen, not much is known of this mixel. [5]
Packaging
Confidentally marked, leaked images of Mixels set bag packaging have been found. Differences to the final product can include a slightly different - or the same - animated form of the character, different artwork in the background, or the character in a different pose.
Images of early designs for the set display boxes in stores have also been found. Often times, the colors of the boxes, and thus, the color representing each wave, are different than the released one.
Sources and References
Community content is available under
CC-BY-SA
unless otherwise noted.