"Every Mixel young and old is at risk, and furthermore a unZZZZZlightly blemish to our beautiful and precious to-be-protected landZZZZZcape!"
— Zaptor
Pothole


An unsightly blemish.
Information
Season
1
Episode Number
6
Production Code
501-296-02A[1]
Original Airdate
March 5, 2014[2]
Characters
Zaptor
Vulk
Episode Guide
Previous
Nixels
Next
Murp
Pothole is the sixth episode in the first season of Mixels. It first aired on March 5, 2014.
Synopsis
YouTube
Vulk and Zaptor mix and come up with a creative solution for a pot hole.[1]
Zap2it
Vulk and Zaptor decide to fix a pothole.[sic][3]
Episode Summary
Vulk and Zaptor are walking along a path, telling jokes and laughing, when Zaptor falls into a Pothole. Zaptor begins ranting about how Vulk could have fallen into it (and physically demonstrates so) and how it is a safety hazard to the landscape. Vulk suggests the two Mix to fix it. They do so and end up destroying the entire landscape. The two high-five and continue telling jokes as the episode ends.
Transcript
For a full transcript of "Pothole", click here.
Songs
Characters
Major Characters
Mixes
Zaptor Vulk Mix
Trivia
This is the first episode where Zaptor has a large amount of dialogue.
The same situation as this episode occurs in Mixel Moon Madness when the land is destroyed by a Mix and the Glowkies Max does not notice it.
Zaptor mentions Nixels in his jokes.
It is unknown how the pothole was made.
The Mix in this episode is shown to be the most destructive Mix, as it destroyed the environment.
This episodes marks the first absence of the following:
This is the first episode to contain the "Mix" title card when two characters Mix.
This episode has only one voice actor: Jess Harnell, due to him providing the voices of both Zaptor and Vulk.
Broadcast Information
This episode and "Murp" aired on March 5, 2014 directly following the Teen Titans Go! episode, "Brain Food" and received a total of 1.859 million viewers.
International airings
International airings
March 2014
Date
Countries
Title
Reference
5
United States
Pothole
Canada
Pothole
[citation needed]
10
Germany
Schlagloch
[4]
Hungary
Gödör
[5]
Romania
Groapa
[6]
18
South Korea
구멍
[7]
Unknown
???
Australia
Pothole
Brazil
Buraco
Bulgaria
Дупката
Denmark
Hullet
France
Le grotte
Hong Kong
TBA
India
TBA
Israel
מהמורה
Italy
La buca
Japan
アブない穴
Latin America

Argentina
Chile
Colombia
Mexico

Bache
MENA countries
أخدود
Netherlands
Rioolput
Norway
Hullet
Poland
Studzienka
Portugal
TBA
Russia
Яма
South Africa
Pothole
South East Asia
Pothole
Spain
TBA
Sweden
Hålet
Taiwan
TBA
Turkey
Çukur
United Kingdom & Ireland
Pothole
Errors
Zaptor's pupil clips through his lower eyelid when he's laughing and Vulk's arm crosses through his jaw.
There are no red triangles on Vulk's hands for the whole episode (except for the Mix).
Allusions
Memorable Quotes
"So then he says, don't take any wooden Nixels!"
— Zaptor
"I JUST FELL IN IT! Like this! Do do do do do... wah!"
— Zaptor
"So, two Mixels and a Nixel walk in to a juice bar..."
— Zaptor
Video
Gallery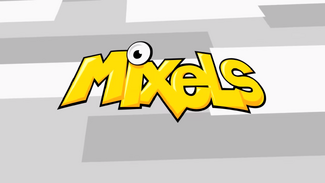 The image gallery for Pothole may be viewed here.
Sources and References
Mixels Series 1 (March 2014)
LEGO sets
Infernites
41500 Flain

/ 41501 Vulk

(Nixel) / 41502 Zorch


Infernites Max


Cragsters
41503 Krader

(Nixel) / 41504 Seismo

/ 41505 Shuff


Cragsters Max


Electroids
41506 Teslo
(Nixel) / 41507 Zaptor

/ 41508 Volectro


Electroids Max

Coconapple / Cookironi / Hot Lava Shower / Electrorock / Nixels / Pothole / Murp / Mailman / Another Nixel / Changing a Light Bulb / Rockball

Stopmotions


Infernites MAX! / Cragsters MAX! / Electroids MAX!
Community content is available under
CC-BY-SA
unless otherwise noted.