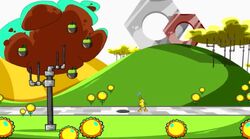 Pipe trees are a type of plant in Mixel Land.
Description
At least seemingly non-organic, the pipe trees are very small networks of steam pipes rooted to the ground with leaves, and some with fruit, such as a coconapple.
In Murp Romp, organic-looking trees resembling a Birchwood can be seen with green leaves.
Trivia
They can be seen in multiple episodes that take place outside of buildings in Mixel Land.
It is unknown how they are able to produce organic fruit and leaves. It is also unknown how the pipes have been placed there: naturally or hand planted.
The name "Pipe Tree" is possibly a mix of the word "pipe" and the real life type of tree, a pine tree.
The pipe trees, along with the rest of the environment, were destroyed, albeit temporarily, in Pothole.
Calling All Mixels confirmed their name.
Community content is available under
CC-BY-SA
unless otherwise noted.