"I will not let you down, Paladum, old pal!"
— Camillot
Description
Personality
This one-eyed, flying-horse-type creature is the pet of Camillot. Paladum may not be the cleverest, but will fearlessly do anything to protect his master. You too are sure to fall in love with this ever-cheerful and loyal character.
Physical Appearance
Paladum has a grey, football-shaped body with gold pegasus wings and a tail that resembles a red flag. His grey neck has brown spikes. Leading towards it is a narrow, grey head with brown and grey accents on his cheeks and a nose. He has four rounded-off teeth; two on his golden jaw and two his upper jaw. His legs are gold with brown feet.
In the cartoon, he spots a gold unibrow on top of his eye, and has a red tounge. His pupil is also much smaller.
Ability
Origin
He has large golden wings that help him fly at will. He is also very speedy.
Biography
Early life
Little is known about Paladum's past. However, he became Camillot's pet at one point, and they formed a strong connection.
First adventures
When Camillot and Mixadel were taken by the King of Mixelot to attend Mixopolis Middle School, Paladum lead the Royal Coach, with other horses pulling behind him. Camillot waved goodbye to him and told him he would miss him. As the carriage went away, Paladum got upset about having to leave his master, and escaped his harness. He headed back to the school and peered into the window of the other Medivals' Mixing 101 class while they were watching a video. Camillot noticed him and grew happy that his pet had returned.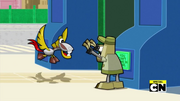 Later on, Paladum tried to enter the Mixopolis Zoo while the class was on a field trip there, but the Gate Keeper wouldn't let him in; as ironically, no animals from outside were allowed to be in the zoo. A little bit after, Paladum tried again, and the Gate Keeper reaffirmed what he had said earlier until a Mixeloptor set loose by Mixadel scared him away. Paladum flew in and decided to distract a Mixeloptor to help the others. Camillot noticed him and this inspired the prince to mix with his class to defeat the Mixeloptors. Paladum was in two of these Mixes.
When everyone returned to the school, the King came to pick the three Medivals up. Paladum hooked back up to his harness and the carriage pulled away, heading back to the kingdom. ("Every Knight Has Its Day")
Further adventures
One day, Paladum and his tribemates sent a noise report to the MCPD over the Mixies not playing their music loud enough. After being threatened with arrest, the Mixies started to play louder, and all the tribes started to dance, closing the case. ("Mixopolis Music Mix-Up!")
One day in Mixopolis, Paladum was with his tribemates and the MCPD. He had a cookironi that Mixadel wanted, so Mixadel launched a Nixel at him, making him drop it. He eventually collided with Busto, letting the two of them grab the cookironi in the end. ("Wild Cookeroni Chase in Downtown Mixopolis!")
Paladum and his tribemates were ambushed by a Nixel armed with a plastic knife, who forced them to surrender. ("Knights In Shiny Armor Attacked By Plastic Knife")
Paladum and his tribemates were ambushed by a Nixel riding a dragon, only being scared of the Nixel. ("Nixel On Dragon Attacks Knights In Shining Armor")
Set Information
Paladum
Information
Series
7
Item Number
41559
Packaging
Grey bag
No. of Pieces
64
Price
 $4.99


 $5.99
 €3.99
 £2.99
 29.95 kr

In-Booklet Code
None
Paladum was be released as part of the Series 7 Mixels sets in the February 2016 product wave. His set number is 41559 and contains 64 pieces.
The set includes a Nixel with a spear and normal expression. The spear can also be attached to Paladum.
41559 Paladum can be combined with 41557 Camillot and 41558 Mixadel to create the Medivals Max.
LEGO Shop product description
Flap the golden wings of faithful Paladum!
This one-eyed, flying-horse-type creature is the pet of 41557 Camillot. Paladum may not be the cleverest, but will fearlessly do anything to protect its master. You too are sure to fall in love with this ever-cheerful and loyal character.
Take care of loyal pet Paladum from the LEGO® MIXELS™ Medivals tribe!
Paladum features a cyclops eye, opening mouth, posable golden wings, posable joints and a flag tail.
Collect all 3 Medivals knights in LEGO® MIXELS™ Series 7 to build the MAX!
Go to LEGO.com/MIXELS for exclusive building instructions, games, animations and much more.
Watch all your favorite MIXELS™ characters on Cartoon Network.
Stands over 2" (7cm) tall.
Sidebar description
Fly into danger with loyal Paladum, featuring a cyclops eye, opening mouth, posable golden wings and a flag tail, 1 of 3 Medivals featured in LEGO® MIXELS Series 7.
Trivia
His legs are gold in cartoon form, yet they are grey and brown in the LEGO model.
He does not have an eyebrow in his static artwork and LEGO model, but he does in animation.
He has not yet actually spoken in the show, mostly making horse-like noises.
Camillot seems to have known Paladum long before the events of Every Knight Has Its Day, as he calls him his "old pal".
He is the only Series 7 Mixel to be based on an animal.
Behind the Scenes
Name and basis
Paladum's name comes from the word "paladin", which was the title of a knight in King Charlemagne's court renowned for heroism and chivalry. His name also seems to be blended with the word "dumb", which refers to his intelligence.
He resembles a pegasus.
Voice
In the TV series, and where sound clips are used, Paladum is portrayed by Eric Bauza.
Real-life history
Early development
Paladum's concept art filmed in The Wonderful World of Mixels showed him with a unibrow over his eye; this was soon changed. His spear was also going to be on the front of his chest, rather than on the side of his body.
Reveals
Paladum was first revealed as a character in the Mixels franchise when the Series 7set list was leaked online on August 10, 2015.[1]
On October 11, 2015, official images of the sets of Paladum and the rest of Series 7 and 8 were leaked in LEGO's online server.[2]
Paladum reappeared with the rest of Series 7 through 9 at Toy Fairs in late January and early February 2016.[3][4]
Content
Paladum debuted in the TV series on March 5, 2016 in Every Knight Has Its Day, while his LEGO set officially became available on February 1 with the rest of Series 7.
Gallery
Main article: Paladum/Gallery
Appearances
Games

Other

Mixels Websites

Breaking News

Knights in Shiny Armor Attacked by Plastic Knife
Nixel on Dragon Attacks Knights in Shining Armor

Mini Movies

Wild Cookironi Chase in Downtown Mixopolis!
The Music Prank

LEGO Club Magazines

Mixed Up Lunch!
Schoolhouse Mix-Up!

The LEGO Book
Sources and References
External links
Characters
Mixels
Season 1

Series 1

Infernites: Flain

/ Vulk

/ Zorch
Cragsters:
Krader

/ Seismo

/ Shuff

Electroids:
Teslo
/ Zaptor

/ Volectro

Series 2
Frosticons:
Flurr

/
Slumbo

/
Lunk

Fang Gang:
Jawg

/ Gobba

/ Chomly

Flexers: Kraw

/ Tentro

/ Balk

Series 3

Glorp Corp: Glomp

/ Glurt

/ Torts


Spikels: Scorpi
/ Footi

/ Hoogi


Wiztastics: Magnifo

/ Mesmo

/ Wizwuz

Season 2
Series 4
Orbitons
:
Niksput

/ Nurp-Naut

/ Rokit

Infernite cousins
:
Meltus

/ Flamzer

/ Burnard

Glowkies
:
Globert

/ Vampos

/ Boogly

Series 5
Klinkers
:
Gox

/ Jinky

/ Kamzo

Frosticon cousins
:
Krog
/ Chilbo

/ Snoof

Lixers
:
Spugg
/ Turg

/ Tungster

Series 6
Weldos
:
Kramm

/ Forx

/ Wuzzo
Glorp Corp cousins
:
Dribbal

/ Gurggle

/ Slusho

Munchos
:
Vaka-Waka

/ Snax

/ Berp

Season 2 (continued)
Series 7
MCPD
:
Kuffs

/ Busto

/ Tiketz

Medivals
:
Camillot
/ Mixadel

/ Paladum

Mixies
:
Jamzy

/ Tapsy

/ Trumpsy
Series 8
MCFD
:
Splasho

/ Aquad

/ Hydro

Pyrratz
:
Sharx

/ Skulzy

/ Lewt

Medix
:
Surgeo

/ Skrubz

/ Tuth

Series 9
Trashoz
:
Gobbol

/ Sweepz

/ Compax

Nindjas
:
Mysto

/ Cobrax
/ Spinza

Newzers
:
Screeno

/ Camsta

/ Myke
Background Mixels
(
Misical Muxels
/ Professor Mixelpuss

)
Infernites
:
Ash

/
Pyrope
/
Flare

/
Cayno
/
Combustor

/
Hotstuff

/
Charlie
Cragsters
:
Rocky
/ Boldurr

Electroids
:
Wott
/ Hurtz

/ Frazzled Mixel

/
Voltz
/
Boltron

/
Boltish
/
Minur
Frosticons
:
Frostbite

/
Shivor

/ Narrator
/ Fridjerk
/ Scrud

/ Freezi-Breezi
/ Wintrifred

/ Mixel Parent / Frostbite's Brothers

/
Hoari-Coopter

/
Freezurr

/
Polare

Fang Gang
:
Barck
Flexers
:
Slugber

/
Teacher
/ Squiddo

/
T-Flex
/
Wingspandex

Glorp Corp
:
Slymee

/ Oozly

/ Booger

/ Globbie
/
Peridoot
/
Gloote

/
Slime-Time
Spikels
:
Blip
/ Thornee

/ Brohawk
/ Punkchure

/ Gate Keeper

/ Ranger Jinx

Wiztastics
:
Kwizeen

/
Fantasto
Orbitons
:
Astroy

Glowkies
:
Bats

/ Phosphee

/
Vespy

Klinkers
:
Tyecoon

/ Principal

/ Koggpact

/ Gajet

/ Steelven

/ Steemur

/
Gurdurr
/
Zinck
Lixers: Lixeon

Munchos
:
Banjoe

/ Muffy
/ Crunchee
/ Gastropodd

/ Nummie

/ Byte

/ Mr. Ius
/ Gummo

/ Referee

/ Zabo

/ Twinzy-Twinsy

/ Munchstache
/ Yumeedle
/ Le Munch

/
Lolliclawp

/
Greggplant
/
Phezz

MCPD
:
Sergeant

Medivals
:
King

MCFD: Fire Chief

Pyrratz: Camerarr

Trashoz
:
Lideye

/
Rubersh

Newzers
:
Kuekard

/
Blawger

/
Joenalist


Nixels
King Nixel

/ Major Nixel


/ Muscle Nixel

/ Slap Nixel

/ Boomerang Nixel

/ Cannon Nixel

/ Boxing Nixel
/ Catch Up Nixel

/ Painted Nixels

/ Tentacle Nixel

/ Nixie
/ Nixel Guard

Other Species
Maximum Mixel

/ Mixamals

/ Living Flames

/ Chickens
Mixels Series 7 (February 2016)
LEGO sets
MCPD
41554 Kuffs
/ 41555 Busto
(Nixel) / 41556 Tiketz
(Cookironi)
MCPD Max

Medivals
41557 Camillot
/ 41558 Mixadel
/ 41559 Paladum
(Nixel)
Medivals Max


Mixies
41560 Jamzy
(Nixel) / 41561 Tapsy
/ 41562 Trumpsy

Mixies Max

Stopmotions

Wild Cookeroni Chase in Downtown Mixopolis! / The Music Prank
Community content is available under
CC-BY-SA
unless otherwise noted.