This is a list of the creatures in the whole of Mixelverse that are not Mixels or Nixels.
Birds
In the background music for the Food Plains in Mixels Rush, chirping birds can be heard.
Butterflies
One of Flurr's stickers from a sticker book contains him staring at a butterfly.
Cats
According to Rokit's bio, kittens are known to exist.
Chickens
Main article: Chickens
Cocktail Weenies
Cocktail weenies are both a food and sentient creature in the 
Food Plains
. They are voiced by 
Steve Blum
.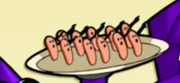 Ducks
Seismo's flotation device in Nixels is in the shape of a duck.
Fireflies
Fireflies decorate the background static image of the Swamplands.
Flies
In Calling All Mixels, flies can be seen buzzing around various areas in clusters around the Swamplands.
Frogs
Croaking frogs are heard in the background of the Swamplands on Mixels.com.
Hoot-Doodles
Flamzer mentions "hoot-doodles" in Mixel Moon Madness when Nixels attempt to hide their presence with the cries of this animal. They are apparently similar to real-life owls, and can possibly be a nickname that Flamzer calls owls.
Living Flames
Main article: Living Flames
Monkeys
In Mixel Moon Madness, Flamzer refers to Meltus and Burnard as "Mix Monkeys" and "Murp Monkeys." Also, when Rokit and Meltus Mix, a monkey slams them together.
Characters
Mixels

Nixels
King Nixel

/ Major Nixel

/ Muscle Nixel

/ Slap Nixel

/ Boomerang Nixel

/ Cannon Nixel

/ Boxing Nixel
/ Catch Up Nixel
/ Painted Nixels

/ Tentacle Nixel

/ Nixie

/ Nixel Guard
Other Species
Maximum Mixel

/ Mixamals
/ Living Flames

/ Chickens

Community content is available under
CC-BY-SA
unless otherwise noted.