This article is a stub




You can help the Mixels Wiki by expanding it. Once there is approval from an administrator, this notice may be removed.
MAX!




MAX! The page you are about to view is about a Max! When three Mixels from the same tribe Mix, they make a Max! A giant beast with the powers of all three Mixels, as well as some unique powers!
Template:Orbitrons
Orbitons Max
Information
Appearances
mixels.com
Primary Mixel
Niksput
Secondary Mixel
Rokit
Tertiary Mixel
Nurp-Naut
Purpose(s)
 ?
Ability(ies)
He can fly with his wings
The Orbitrons Max is a Max that will appear in 2015.
Physical Appearance
Abilities
Set Information
The Orbitrons Max can be built using parts combined from Mixels sets 41527 Rokit, 41528 Niksput, and 41529 Nurp-Naut. Extra parts are leftover after construction. Instructions are available on the LEGO website downloads page.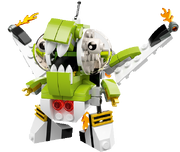 Trivia
He resembles a "land shark."
Gallery
Main article: Orbitrons Max/Gallery
Community content is available under
CC-BY-SA
unless otherwise noted.