This article is under construction


This page or section is currently under maintenance or construction. Feel free to help in any way you can to improve it.
The Orbitons Max is a Max that debuted in Mixel Moon Madness.
Physical Appearance
Overall, this Max resembles Rokit the most.
Abilities
His feet can emit fire, letting him soar into space. He also has the ability to shoot laser beams from his eyes.
Set Information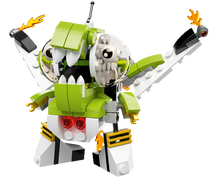 The Orbitons Max can be built using parts combined from Mixels sets 41527 Rokit, 41528 Niksput, and 41529 Nurp-Naut. Extra parts are left over after construction. Instructions are available on the LEGO website downloads page.
Trivia
He resembles a "land shark".

He slightly resembles a dinosaur creature.

He is the only non-cyloptic Series 4 Max.
He has exactly the same jaw and teeth as Rokit's.
He has jet boots in his artwork as seen in the special, but not in his LEGO form. Instead, he has a jet exhaust on his lower back.
He is the first Max to be voiced by all tribe members. This is an ability given to him via Nurp-Naut. Despite Niksput being the leader, he has yet to lend his voice to him.
Despite the fact that his eyes are covered in glass domes, he can still poke them and get hurt.
He seems to have longer arms in the show than in LEGO form.
He is the first Max to have a ball jointed jaw. The second being the 2015 Frosticons Max.
He is the third Max to use minifigure head eyes, first being Frosticons Max and second being Wiztastics Max.
Gallery
Main article: Orbitons Max/Gallery
External links