Nixels' New Adventure! is a one-page comic in the May/June 2016 issue of LEGO Club Magazine. It features the Series 8 Mixels and the Nixels that come with them.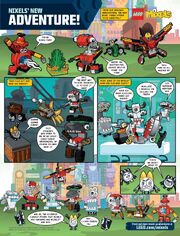 Synopsis
Three Nixels do a report on various Mixel tribes based on their own "unbiased observations". They conclude that Mixels are unhelpful (as the MCFD put out a fire), are rude and greedy (as the Pyrratz kindly give the Nixels their treasure), and enjoy flossing (as Sharx seems to fib about regularly flossing during his trip to the Medix). One of the Nixels then concludes that the evidence proves that "Nixels are awesome and Mixels are not," only for another Nixel to nervously point out that the tribes are surrounding them, as the three of them hastily try to say that they didn't mean it.
Characters
Errors
On the last panel on the comic, Skrubz's window piece appears solid, and not transparent.
On the last panel, Aquad's ball joint pieces that connect his legs to his body are white instead of gray.
In the last panel, two pieces on the front of Lewt are light brown instead of dark brown.
Hydro's water is darker in both panels that he's in.
In the last panel, the sides of the two round blue pieces on Aquad's wings are white.