Were you looking for the Mix?
Niksput & Burnard Mix[1] is the tenth episode of the Mixels stop motions. It was released on April 24, 2015 on YouTube.
Watch as Niksput attempts to basketboard – skate boarding while trying to shoot a basketball through a hoop! Will Burnard need to help Niksput make the basket, or will he make it by himself?[1]
Niksput attempts Basketboarding as Burnard watches and laughs at his many fails. Burnard pulls out a Cubit to help Niksput and they Mix. The Mix manages to perform a slam dunk.
CharactersEdit
Major CharactersEdit
Niksput & Burnard Mix
This stopmotion introduces Basketboarding.
This is the only stop motion short for Series 4, unlike the other series, which have at least two shorts.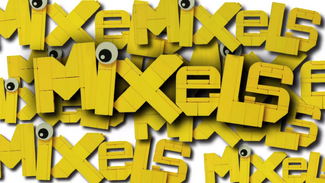 The image gallery for Niksput and Burnard Mix may be viewed here.
Sources and ReferencesEdit