Myke
Information
Debut
Nixel, Nixel, Go Away
Last Appearance
Nixel, Nixel, Go Away
Nicknames (aka)
Mobile recording studio
Tribe
Newzers
Position
Sound engineer
Editor
Mixing board
Gender Preference
Male
Color
Black
Red
Blue
Yellow
Special Features
Headphones
Boom microphone
Claw legs
Wheels
Mix TV logo
Tape
Likes
 ?
Dislikes
Nixels
Quote
"This party is going to make the evening news!"
Voice Actor
Gregg Bissonette
Game Abilities
 ?
Description
Personality
This mobile recording studio of a Mixel is a crucial member of the Newzers tribe's I Witness team. A sound engineer, editor and mixing board all in one on 4 legs and wheels, Myke does whatever it takes to broadcast the MIX TV news to viewers!
Physical Appearance
Myke is mostly black in color. He has a blue control panel with the Mix TV logo and yellow and red controls. He has short blue arms with black pincer hands. His legs are small and end in yellow points, along with a pair of wheels. He also wears a large pair of headphones. He carries a boom mike in his hand. He has a square-like head with a single eye in the middle.
Biography
First adventures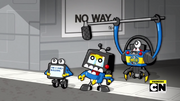 Myke helped record news reports with Screeno. He and Screeno hide inside of Gobbol as the Nixels invade Mixopolis. He, Screeno and Camsta record King Nixel inside of the Nixels' tower and broadcast it to Mixopolis Stadium; exposing the King for who he really is just before everyone is nixed. ("Nixel, Nixel, Go Away")
Memorable Quotes
Set Information
Myke
Information
Series
9
Item Number
41580
Packaging
Black bag
No. of Pieces
63
Price
 $4.99


 $5.99
 €3.99
 £2.99
 29.95 kr

In-Booklet Code
 ?
Myke was released as part of the Series 9 Mixels sets in the October 2016 product wave. His set number is 41580 and contains 63 pieces.
41580 Myke can be combined with 41578 Screeno and 41579 Camsta to create the Newzers Max.
LEGO Shop product description
Get hi-tech with Myke!
Pretend to record TV news shows with Myke, featuring 4 legs and wheels, a recording-deck-style body, headphone elements, plus a boom microphone element in hand. For more building and role-play fun, collect all 3 Newzers featured in LEGO® MIXELS™ Series 9 to create the MAX. Alternatively, combine Myke with 41577 Mysto from the Nindjas tribe to build a mixed-up MURP!
Trivia
Behind the Scenes
Name and basis
Myke's name is a misspelling of the name "Mike". His name may also be a misspelling of the word "mic", the shortened term for "microphone".
Voice
In the TV series, and where sound clips are used, Myke's voice is provided by Gregg Bissonette.
Real-life history
Reveals
Myke appeared with the rest of Series 7 through 9 at Toy Fairs in late January and early February 2016.[1][2]
Content
Myke debuted in the TV series on October 1, 2016 in Nixel, Nixel, Go Away, while his LEGO set officially became available on October 1st with the rest of Series 9.
Gallery
Main article: Myke/Gallery
Appearances
Merchandise
Games
Other
Sources and References
External links
Characters
Mixels

Nixels
King Nixel

/ Major Nixel

/ Muscle Nixel

/ Slap Nixel

/ Boomerang Nixel

/ Cannon Nixel

/ Boxing Nixel
/ Catch Up Nixel
/ Painted Nixels

/ Tentacle Nixel

/ Nixie

/ Nixel Guard
Other Species
Maximum Mixel

/ Mixamals
/ Living Flames

/ Chickens

Mixels Series 9 (October 2016)
LEGO sets
Trashoz
41572 Gobbol
(Nixel) / 41573 Sweepz
/ 41574 Compax

Trashoz Max

Nindjas
41575 Cobrax
(Nixel) / 41576 Spinza
/ 41577 Mysto

Nindjas Max

Newzers
41578 Screeno
/ 41579 Camsta
(Nixel) / 41580 Myke

Newzers Max

Stopmotions

Nindjas vs. Trashoz / Nindja in an Epic Ice Sculpture Fail