Murp is the seventh episode in the first season of Mixels. It first aired on March 5, 2014.
Synopsis
YouTube
Flain and Shuff [sic] want to mix to cross a river to a party, but they create a murp each time they try.[1]
Zap2it
Flain and Shuff want to mix to cross a river to a party, but they create a murp each time they try.[sic][2]
Episode Summary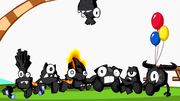 Flain and Krader manage to get stuck from reaching a party due to a river blocking them from reaching it. Flain suggests the two Mix but Krader remarks that Mixing might not always work. However, Krader is persuaded to Mix after Shuff hangs up a Ballooñata. The two end up Murping and the Murp catches on fire, being forced to throw itself into the river.
After candy is mentioned by the party-goers, the two try Mixing again and succeed. The Mix rushes across the river and crashes into the party, burning everything and causing Teslo's Volt-O-Meter to claim the party is lame.
Transcript
For a full transcript of "Murp (episode)", click here.
Songs
Characters
Major Characters
Minor Characters
Mixes
Krader Flain Mix
Murps
Trivia
It is unknown why Zorch or Zaptor weren't invited, as it was likely Teslo's party (since he was trying to hit the ballooñata) and Teslo doesn't seem to have a problem with either of them. However, it could have been because they couldn't make it, or in Zorch's case, Teslo didn't want to deal with Zorch's annoying personality.
This episode, Another Nixel, and Electrorock are the only Series 1 shorts to be uploaded to Cartoon Network's YouTube channel with the regular logo as opposed to the preliminary logo.
Yet another Mixel object combination is used, a "ballooñata".
Broadcast Information
This episode and "Pothole" aired on March 5, 2014 directly following the Teen Titans Go! episode, "Brain Food" and received a total of 1.859 million viewers.
International airings
International airings
March 2014
Date
Countries
Title
Reference
5
United States
Murp
Canada
Murp
[citation needed]
17
Germany
Partyschreck
[3]
Hungary
Murp
[4]
Romania
Murp
[5]
18
South Korea
파티
[6]
Unknown
???
Australia
Murp
Brazil
Murp
Bulgaria
Мърп
Denmark
Murp
France
Murp
Hong Kong
TBA
India
TBA
Israel
TBA
Italy
Murp
Japan
向こう岸へ渡れ!
Latin America

Argentina
Chile
Colombia
Mexico

Murp
MENA countries
مزيج خاطئ
Netherlands
Murp
Norway
Murp
Poland
Nieudany Mix
Portugal
Murp
Russia
Мёрп
South Africa
Murp
South East Asia
Murp
Spain
Murp
Sweden
Murp
Taiwan
TBA
Turkey
Balonyata
United Kingdom & Ireland
Murp
Continuity
This is the first episode where a Mixel cries.
This is the first appearance of a Murp.
This is the second time Krader gets harmed, the first being Electrorock.
Allusions
SpongeBob SquarePants - In the beginning, the scene shows the bottom of the river, then it makes a bubbling sound going up that is similar to the show SpongeBob SquarePants, where it shows the title of an episode, the credits, and it makes a bubbling sound.
Errors
On the iTunes and Google Play descriptions for this episode, Krader is referred to as Shuff, and they read "Mux" rather than "Murp."
When Seismo's reacting to the ballooñata for the first time, the dark gray part above his eye is missing, and stays missing for the rest of the episode, excluding the part where the Krader & Flain Mix was about to run into the party.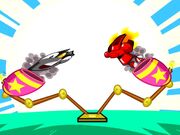 When Flain and Krader get blasted out of the cannons (as shown in the image at the right), Krader's arms and legs are missing.
The Ballooñata is not attached to anything when the Krader & Flain Mix is about to crash into the party. Rather, it is floating in midair.
Memorable Quotes
Video
Gallery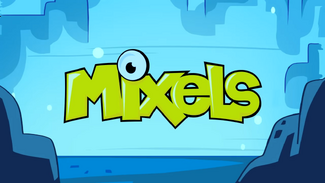 The image gallery for Murp (episode) may be viewed here.
Sources and References
Mixels Series 1 (March 2014)
LEGO sets
Infernites
41500 Flain

/ 41501 Vulk

(Nixel) / 41502 Zorch


Infernites Max


Cragsters
41503 Krader

(Nixel) / 41504 Seismo

/ 41505 Shuff


Cragsters Max


Electroids
41506 Teslo
(Nixel) / 41507 Zaptor

/ 41508 Volectro


Electroids Max

Coconapple / Cookironi / Hot Lava Shower / Electrorock / Nixels / Pothole / Murp / Mailman / Another Nixel / Changing a Light Bulb / Rockball

Stopmotions


Infernites MAX! / Cragsters MAX! / Electroids MAX!