Were you looking for the episode of the same name?
When Mixels combine together it can go wrong and murp-make a weird, uncontrollable, mixed up Mixel.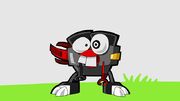 Murp Mixels
Infernites
Flain and Krader
Vulk and Krader
Vulk and Teslo
Vulk and Zaptor
Vulk and Volectro
Zorch and Krader
Cragsters
Krader and Seismo
Krader and Teslo
Krader and Zaptor
Krader and Volectro
Seismo and Shuff
Seismo and Teslo
Shuff and Teslo
Shuff and Zaptor
Shuff and Volectro
Electroids
Teslo and Volectro
Trivia
The Infernites only have 8 Murp Mixels, while the other two tribes have 9 Murp Mixels.
Any Electroid with Shuff is a Murp.
See Also
Community content is available under
CC-BY-SA
unless otherwise noted.