The Munchos Max is a Max that made its debut in A Quest for the Lost Mixamajig.
Appearance
This Max is mostly purple in color, and he resembles Vaka-Waka the most.
The Munchos Max has eight teeth, and the top teeth are similar to Berp, while the bottom teeth are sharp ones in a large underbite. He has a semi-circular body with a lavender-colored stripe, a glass window in his stomach, and two buttons below the glass window. He also has two purple and black arms with gray hands, and purple feet with two white toes. His back has a piece used from one of Snax cheeks. He has Vaka's nose and a ball piece on each side of his head.
Abilities
Easy access stomach.
Shoot snacks coming from his mouth.
Set Information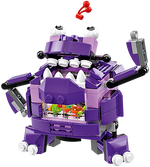 The Munchos Max can be built using parts combined from
Mixels
sets 41551 Snax, 41552 Berp and 41553 Vaka-Waka. Extra parts are leftover after construction. Instructions are available on the
LEGO
website
downloads page.
Trivia
On the front instruction page, the Max contains all the food of the Munchos sets. In the official instructions, it uses the Nixel instead.
This is the only Max in LEGO form to use a Nixel as an included object in the build; in this case, as food.
He has a resemblance towards that of a hippopotamus.
He is the second largest Max, the first being 2015 Infernites Max.
He is the first Max, and also Mixel-based creature in general, that uses ball joints as "ears".

However, they are black in his LEGO set and purple in his animation model.

He is the second Max that can eat almost anything, the first being the Fang Gang Max.
His body somewhat resembles an oven or a vending machine.
He, along with the Electroids Max and the 2014 Frosticons Max, are the only Maxes without ball-jointed arms.
He can eat 2 giant pizza slices easily, as shown in the LEGO video.
HE WILL DEVOUR EVERY LIVING BEING THAT GETS IN HIS WAY....jk
Gallery
Main article: Munchos Max/Gallery
External links