"Ah, Muncholand. The perfect place for a soft landing!"
Muncholand, sometimes written as Muncho Land, is a location on Planet Mixel. It is where the Munchos reside.
Appearance
Muncholand resembles parts of the regular Mixel Land; it consists of rolling plains and fields. However, it also contains large food, such as:
Cake for mountains.
Pizza slices for trees.
Chocolate bars and cherries sticking out from the ground.
Burgers also appear to be growing off of bushes.
The clouds appear to be made out of cotton candy.
The ground resembles pizza toppings.
Gumdrops resembling stones scattered through a river.
Giant utensils such as forks and knives.
Mixmallow fields.
There are also tacos, cupcakes, meatballs, and Pocky sticks in other areas.
In Apps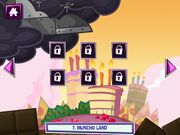 In Mixels Rush, Muncholand is the seventh world in the game.
Background Music
Mixels Rush
Trivia
Gallery
Main article: Muncholand/Gallery
Appearances
Season 2
Merchandise
Other
Community content is available under
CC-BY-SA
unless otherwise noted.