"Okay, class, after lunch is the big field trip to the Mixopolis Zoo. There, we will see how even the wildest creatures of the natural world use mixing to survive."
— Teacher
The Mixopolis Zoo is a zoo located in Mixopolis.
Description
Mixopolis Zoo contains various locations and habitats made to mimic the natural ones of the various Miximals that live in the zoo. A security system is used to keep the cages of the more dangerous creatures closed off.
The zoo also has strict rules communicated by signs: "You can't come in here" (for animals, ironically) and "Gassy mud for Mixamals only".
Some of the exhibits also have an interactive narration feature.
Staff
The zoo is staffed primarily by Spikels; known to be Ranger Jinx and the Gate Keeper.
Trivia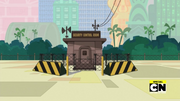 Ironically, no animals are allowed in the zoo, which kept Paladum from entering, until the Gate Keeper ran away from the Mixeloptors.
It is also located near the castle.
Ironically, the security room has no security guards.
Gallery
Main article: Mixopolis Zoo/Gallery
Appearances
Community content is available under
CC-BY-SA
unless otherwise noted.